After much anticipation by local burger lovers, Five Guys Burgers have opened their doors in Burbank. The location is in the Burbank Town Center, but accessible from the outside at the corner of San Fernando and Magnolia. The Burbank location is open 11 am to 10 pm every day.
While the intersection is one of the heaviest foot traffic areas in Burbank, there is very little street parking. Parking is available on the other side in the Town Center with some limited parking available on San Fernando.
With my respects to the Burger Dude (he does not review chain burgers anyway), I had to try one of these burgers that so many swear by.
I ordered a cheeseburger, fries and a large drink which came to $15.01. I did not have a penny so I got back $4.99, with no quarters present. You are able to watch the burger being made which is a fresh patty. It took about 10 minutes to get my order at the time when I was lucky enough that they were not very busy. In fact, there were more employees eating then there were paying customers when I was there around 2:45 pm.
A large plus is the new coke machine that have every type of drink in the known coke universe available. I went for the cherry vanilla Mr. Pibb.
Once I got the burger, I immediately discovered what all the calamity was about.  This thing was great. Cheese oozed out, the meat was great and it was loaded with condiments. It seemed to be a step up from the In N' Out Double Double.
My only disappointment were the fries (like In N' Out). They did not seem to be cooked very long and had no crispness at all. They were made with real potatoes and fatter then In N' Out but they wiggled like worms when you took them out of the container. I did not finish them.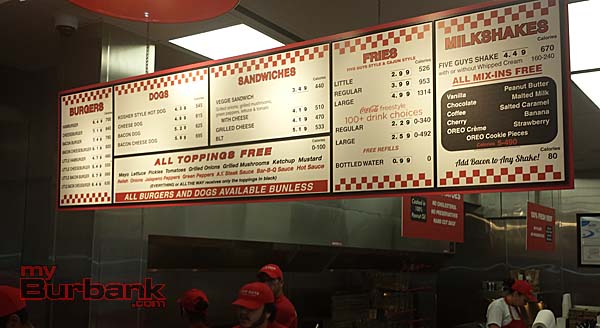 There you have it Burbank – if you have never tried one of these Burgers you need to stop by, this is an absolute taste treat. Make sure you give yourself plenty of time though because parking will definitely be an issue.