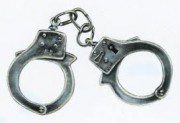 Note: All suspects arrested are presumed innocent until found guilty by a court of law. Arrests made by Burbank Police Dept. unless otherwise indicated. The following are Official PUBLIC Records being redistributed by myBurbank.com Inc. and is protected by constitutional, publishing, and other legal rights. These Official Records were collected in March 2017 The person(s) named in these listings has only been arrested on suspicion of the crime indicated and are presumed innocent.

If you would like your name redacted from the list, please fill out the following form –
ALL 3 fields must be filled in for a redaction.
April 15th
Evelyn Marina Vasquez, 35 of Los Angeles
2:49a Magnolia and Hollywood Way
DUI
Donta Gilbert, 36 of Los Angeles
12:00n 1575 Victory Pl
Possession of Methamphetamine, Burlary
Darnell Marcus Norman, 36 of Las Vegas
4:50p 620 E Harvard
Possession of Controlled Substance, Forgery
Demontez Lemar Tyler, 21 of Lancaster
4:35p Kenneth and Eton
Resisting Arrest
Natalie Talia Schneider, 34 of Thousands Oak
3:45p Verdugo and Hollywood Way
Under The Influence Of A Controlled Substance
Juan Manuel Leon, 24 of North Hollywood
11:30p LAPD Van Nuys
Robbery
Joana Lynnette Cortes, 21 of North Hollywood
11:44p 1331 Victory
Brandishing a Weapon, Gun or Firearm, Petty Theft
April 16th
Joel Anthony Sanchez, 22 of North Hollywood
12:05a Walmart
Petty Theft
Manuel Fierro, 24 of Sun Valley
12:05a Walmart
Petty Theft
Ulysses Martínez, 24 of Van Nuys
3:45a Glenoaks and Andover
Felon in Possession of a Firearm
Jose Luis Caceres Jr, 29 of North Hollywood
3:15a Glenoaks and Andover
Carrying a Concealed Firearm, DUI
Anabella Bageri, 26 of Palmdale
8:00a 444 E Provedencia
Possession of Drug Paraphernalia, Possession of Methamphetamine, Possession of Controlled Substance
Cody Allen Carter, 26 of Van Nuys
8:00a 444 E Provedencia
Possession of Methamphetamine, Possession of Controlled Substance
Nestor Hernandez, 33 of Sylmar
2:55p Redacted
Possession of Controlled Substance, Domestic Battery
Rosa Cortez, 30 of Santa Ana
7:45p Walmart
Resisting Arrest, Petty Theft
Denis Christopher Kanos, 35 of Burbank
11:30p Walmart
Petty Theft, Parole Violations
NAME REDACTED, 18 of Burbank
11:41p 1400 W Olive
Drunk in Public
April 17th
Brittany Laree Lonsdale, 29 of Burbank
12:15a 3800 Heffron
DUID
Jovon Vernell Vest, 23 of Burbank
2:45a LAPD Van Nuys
Petty Theft
Robert David Fox, 54 of Burbank
9:35a Hollywood Way and Chandler
Contempt of Court
Jamie Paul Pérez, 51 of Burbank
10:20a 241 W Olive
Drunk in Public, Battery on a Peace Officer, Contempt of Court
James Lee Taylor, 51 of Burbank
12:45p Tulare and Brighton
Indecent Exposure
NAME REDACTED, 22 of Burbank
3:30p Burbank Jail Lobby
Sexual Battery
Eric Alan Parker, 39 of Burbank
4:00p 320 E Angeleno
Vandalism, Destroying or Concealing Evidence
Matthew Aaron Mikaelian, 20 of Sun Valley
8:05p 108 E Providencia
Possession of Drug Paraphernalia, Possession of Methamphetamine, Possession of Controlled Substance
John Ibanez, 39 of Burbank
8:10p Nordstrum Rack
Possession of Methamphetamine, Petty Theft, Criminal Trespass
April 18th
John Richaes Bansbach, 68 of Burbank
1:00a Redacted
Domestic Battery
Deric Morrell Callegari, 45 of Sylmar
7:15a 822 San Fernando
Battery on a Peace Officer, Under The Influence Of A Controlled Substance, Possession of Methamphetamine, Driving on a Suspended License
Armen George Keshishian, 41 of Burbank
7:45p 2000 W Empire
Grand Theft, Possession of Drug Paraphernalia, Possession of Methamphetamine
Tracy Arlene Baker, 52 of North Hollywood
11:20p San Fernando and Hollywood Way
Under The Influence Of A Controlled Substance
April 19th
Jacob Nicholas Gonzalez, 23 of Santa Monica
2:20a Verdugo and Santa Anita
DUID
Mardoqueo Surachat Lopez, 27 of Burbank
10:15a 1144 North Hollywood Way
Contempt of Court
Jaclyn Elizabeth Gomez, 25 of North Hollywood
12:15p BPF
Identity Theft, Grand Theft
Albert Garabet, 21 of Burbank
1:00p 160 W Linden
Drunk in Public
Khachik Ojenian, 30 of Burbank
7:15p 2600 N Brighton
DUID
Josiah Joseph Huerta, 27 of El Monte
9:45p Lamer and Peyton
Failure to Appear
April 20th
Jonathan Garcia, 29 of Burbank
5:45p San Fernando and Fredrick
Failure to Appear, Possession of Controlled Substance, Driving on a Suspended License
Elmo Enrique Quesada, 60 of Burbank
7:30p 465 E San Joes
Sexual Battery
Jesus Sanchez Jr, 25 of Burbank
7:45p Burbank and Edison
Possession of Drug Paraphernalia, Possession of Methamphetamine
Christopher Wayne Arms, 47 of North Hollywood
7:45p Clybourn and Victory
Possession of Methamphetamine, Possession of Drug Paraphernalia, Possession of Controlled Substance
Taylor Steinman, 20 of Westlake
7:30p Clybourn and Victory
Possession of Controlled Substance
Serop John Nalbandian, 44 of North Hollywood
11:00p Victory and Manning
Failure to Appear, Possession of Drug Paraphernalia, Possession of Methamphetamine
Darlene Aldrich, 35 of North Hollywood
11:40p Victory and Manning
Possession of Drug Paraphernalia, Possession of Methamphetamine
Hector Manuel Ramos, 34 of Burbank
11:12p Hollywood Way and Whitnall
Possession of Methamphetamine
April 21st
Antonio Mbornoni, 27 of Reseda
3:35a Buena Vista and Victory
Possession of Drug Paraphernalia
Katie Morgan-Peters, 23 of Tujunga
3:45a Buena Vista and Victory
ossession of Methamphetamine, Petty Theft, Possession of Drug Paraphernalia, CA Credit & Debit Card Fraud Law
Michael Paul Woodley, 41 of Canyon Country
12:00n Buena Vista and San Fernando
Possession Of Methamphetamine For Sale, Resisting Arrest, Carrying A Switchblade, Possession of Drugs for Sale
Matthew Richard Madsen, 30 of Newhall
12:00n Buena Vista and San Fernando
Failure to Appear, Possession Of Methamphetamine For Sale, Possession of Drug Paraphernalia, Possession of Drugs for Sale
Anna Nersisyan, 28 of Los Angeles
1:56p 200 N Third Street
Petty Theft
Sabrina Marie Deville, 50 of Burbank
3:10p Buena Vista and Olive
Prostitution & Solicitation
Curt Alan Burns, 53 of Burbank
3:30p Olive and San Fernando
Resisting An Executive Officer, Drunk in Public
Jaquez George, 51 of Burbank
4:30p Verdugo and Park
Failure to Appear
Andrew Patrick McCarthy, 23 of Burbank
Possession of Drug Paraphernalia, Possession of Methamphetamine, DUID
7:39p Buena Vista and Burbank
April 22nd
George Martel Head, 20 of Signal Hill
4:45a Magnolia Overpass
Identity Theft, Burglary
Crystal Tarie Cockerhan, 25 of Signal Pass
4:45a Burbank Overpass
Failure to Appear, Receiving Stolen Property, False Identification to a Police Officer, Identity Theft
Brandon Lamar Brown, 19 of Long Beach
4:45a Burbank Overpass
Identity Theft, Receiving Stolen Property
Benjamin Lee Conti, 48 of Burbank
5:00a 623 E Palm
Contempt of Court
Edson Martinez, 41 of Los Angeles
10:15a Thornton and Frederick
Driving on a Suspended License
Paul Aleman Santana, 59 of San Fernando
11:45a Alameda and Glenaaks
Unlicensed Contractors
Alexander Whitewolf, 33 of Los Angeles
1:00p 2900 N San Fernando
Drunk in Public
Travis Earl Frickey, 40 of Palmdale
11:35a Glenaoks and Roscoe
Failure to Appear, Possession for Sale of Designated Substances, DUI, Bringing Contraband into Jail
Manuel Rivera, Jr, 61 of Highland
3:35p LAPD Foothill
Driving on a Suspended License
NAME REDACTED, 44 of Los Angeles
7:00p 1001 San Fernando
Driving on a Suspended License, Possession False Government Identification, Possession of Drug Paraphernalia, Possession of Methamphetamine
Lucy Rodriguez, 39 of Sun Valley
8:20p Ontario and San Fernando
Driving on a Suspended License
Bryant Cardona, 22 of Los Angeles
10:30p Redacted
Bringing Contraband into Jail, Corporal Injury on Spouse Sentencing
Darnell Barnes, 60 of Burbank
11:10p 1100 N San Fernando
Trespassing
April 23rd
Mike Renard Pride, 24 of Sacremento
1:30a Frederick and San Fernando
Identity Theft
Diane Yvonne Rodriguez, 29 of Burbank
2:40a Walnut and San Fernando
Drunk in Public
Eduardo Soriano Mejia, 29 of North Hollywood
10:15a Buena Vista and Burbank
DUI, Vandalism
Andre Saakyan, 25 of Burbank
10:30a 1733 Bonita
Assault & Battery, Contempt of Court
Richard Everett Straub, 55 of Burbank
5:00p Izay Park
Drunk in Public
April 24th
Thomas Michael Mahoney, 44 of Burbank
1:00a Verdugo and Pass
Possession of Methamphetamine
Loni Marie Lopez, 31 of Panorama City
2:37p Redacted
Elder Abuse, Corporal Injury on Spouse Sentencing
Thomas Alexander Garcia, 28 of Burbank
9:30p Burbank and Kenwood
Possession of Drug Paraphernalia, Possession of Methamphetamine, Possession of Controlled Substance
Jon Christian Petersen, 54 of Burbank
10:00p San Fernando and Delware
Drunk in Public
Fernando Cuello, 27 of Lynwood
11:40p Ramada Inn
Possession of Methamphetamine
April 25th
Adrian Alexander Angel Bello, 19 of Burbank
12:40a Providencia and Victory
Possession of Controlled Substance
Anna Sarkisia, 53 of Burbank
10:05a Burbank and Mariposa
Driving Without A License
Edris Marooti, 24 of Glendale
1:30p 530 N Mariposa
Possession of Methamphetamine, Possession of Controlled Substance, CA Credit & Debit Card Fraud Law, Bringing Contraband into Jail
Raymond Havrapetyan, 40 of Glendale
4:30p 301 N Pass
Burglary, Possession of Drug Paraphernalia, Petty Theft, Possession of Methamphetamine
Victor Escoto, 27 of Pocoima
2:30p 12601 Pierce
Parole Violation, Robbery
Leslie Jacqueline Montoya, 20 of Castiac
2:30p 12501 Pierce
Robbery
Oganes Avadian, 30 of Burbank
6:40p San Fernanfo and Alameda
Possession of Controlled Substance, Under the Influence of a Controlled Substance, Possession of Drug Paraphernalia
Miguel Angel Serrano Ramos, 43 of Toluca Lake
10:00p Riverside and Evergreen
Probation Violation
April 26th
David Luna, 39 of North Hollywood
12:05a Van Owen and Valley
Drunk in Public
Alex Emmanual Garcia Jr, 33 of Orlando
12:50a Ramada Inn
Drunk in Public
Aracely Hernandez, 33 of Burbank
12:50p Scott Rd and Glenoaks
Drunk in Public
Kerriaun Zanders, 23 of Los Angeles
7:00p 4505 Ascot
Failure to Appear, Accessory After The Fact
John Joseph Zerbo, 39 of Tujunga
10:00p 2311 Hollywood Way
Petty Theft, Possession of Drug Paraphernalia
Timothy Jaymore Hayes, 20 of Los Angeles
7:00p 4505 Ascot
Robbery, Attempted Murder
Unique Shaunese Rivers, 20 of Los Angeles
7:00p 4505 Ascot
Robbery, Attempted Murder
February 27th
Steven Anthony Frias, 25 of Arleta
1:50a 630 Toluca Park
Possession of Methamphetamine, Resisting Arrest, Possession of a Controlled Substance
NAME REDACTED, 28 of Sun Valley
2:30a Keystone and Empire
Possession of Drug Paraphernalia, Possession of Controlled Substance, Possession of Methamphetamine
Estuardo Alburez, 37 of Burbank
10:15a 2042 N Buena Vista
Driving With a Suspended License, Possession of Controlled Substance, Misdemeanor Hit and Run
Nerses Karagezyan, 29 of Arleta
1:45p 13688 Chase
Parole Violation, Possession of Drugs for Sale
Trang Huynh Minh, 45 of Burbank
1:20p Magnolia and Fairview
Contempt of Court, Violation of Restraining Order, Elder Abuse
Eduardo Antonio Hanke, 27 of Burbank
11:00p 2340 N Naomi
Possession of Methamphetamine
April 28th
Pablo Rosales Jr, 45 of Burbank
8:15a Winona and San Fernando
Driving With a Suspended License
Joshua Menendez, 22 of Tarzana
12:00n Buena Vista and Clark
Possession of Drug Paraphernalia, Possession for Sale of Designated Substances, Identity Theft
Alexander Ryan Vintch, 19 of Westchester
12:00n Buena Vista and Clark
Possession of Drug Paraphernalia, Possession of Methamphetamine, Identity Theft
David John Taddeo, 59 of Burbank
7:32p 425 E Glenwood
Failure to Appear, Resisting Arrest
Allesine Farfan, 26 of Los Angeles
7:32p 425 E Glenwood
Drunk in Public
Hamlet Ayvazyan, 36 of Burbank
8:30p 1500 Screenland
Failure to Appear, Possession of Methamphetamine, Grand Theft Auto, Criminal Threats
Jordan Graham White, 29 of Burbank
11:10p Redacted
Destruction of Telephone Line, Corporal Injury on Spouse
Taron Onik Ifiktchyan, 23 of Glendale
11:40p 200 Block and Buena Vista
Possession of Drug Paraphernalia, Possession of Controlled Substance, Identity Theft
April 29th
Nelson Delgado, 27 of Palmdale
3:05a Vallarta
Possession Of Burglary Tools, Possession of Methamphetamine,Possession of Drug Paraphernalia, Possession of Controlled Substance, Identity Theft
Mark Morey, 54 of Burbank
2:05p 1700 Verdugo
Drunk in Public
Robert Holley, 59 of Burbank
2:15p Reese and Verdugo
Drunk in Public, Misdemeanor Hit and Run, DUI
Jean Carlos Gonzalez, 31 of Burbank
4:00p 2240 Fairview
Drunk in Public
Karen Stridde, 57 of Burbank
10:00p 219 W Elmwood
Pointing a Laser at a Flying Aircraft
Jose Esteban Ruiz, 47 of Los Angeles
10:40p Sprouts
Drunk in Public
Charles David Howell, 36 of Burbank
10:40p Sprouts
Drunk in Public
Matthew Randell, 22 of Sylmar
11:15p Hollywood Way and Chandler
Possession of Drug Paraphernalia, Possession of Methamphetamine, Possession of Controlled Substance
James Anthony Gold, 19 of Burbank
11:00p Main and Victory
Burglary
April 30th
Victor Alejandro Centeno, 24 of Sun Valley
1:40a Redacted
Driving With a Suspended License, Driving With a Suspended License for DUI, Corporal Injury on Spouse, Possession of Drug Paraphernalia
Chinyere Iman Jenkins, 21 of Van Nuys
1:30p Planet Fitness Parking Lot
Possession of a Switchblade
Luis Ezequiel Martinez, 59 of Burbank
2:50a Kenwood and Pacific
DUI
Gabriel Anthony Lopez, 20 of Canyon Country
3:30p Glenoaks
DUI Causing Injury
Javier Navarro, 24 of Los Angeles
9:50a Alameda and Flower
Under the Influence of a Controlled Substance
Alvaro Richard Aceves, 38 of Sylmar
6:30p Buena Vista and Alameda
Credit & Debit Card Fraud, Possession of a Controlled Substance
John Darakjian, 60 of Burbank
6:30p Redacted
Domestic Battery
Andrew Albert Lara, 27 of Burbank
8:30p 1573 Pepper
Drunk in Public
John Richard Kaufman Jr, 43 of Reseda
10:00p Fairmont and Fifth
Brandishing a Weapon
Gabriel Anthony Esparza, 32 of Burbank
11:30p 222 N Lincoln
DUI