By Rick Assad
Sports Editor 
The Burbank High football team has one game under its belt, a 38-20 upset win over highly-ranked Monrovia on the road, while Burroughs scrimmaged at Warren.
Each team will be in action tonight in nonleague matches as the Bulldogs host Ayala at Memorial Field with a 7 p.m. kickoff, and the Indians travel to Calabasas.
Despite the victory, Burbank coach Richard Broussard feels his squad is capable of playing even better against Ayala, which lost to Chino Hills, 31-0, in its season-opener.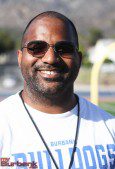 Burbank's rugged rushing attack churned out 257 yards against the Wildcats, and was led by sophomore Darnell Williams, who ran for a game-high 112 yards on 12 carries.
Williams was assisted by junior Jake Kelley, who added 63 yards on 13 carries and scored a pair of touchdowns, while junior Nick Warren contributed 62 yards on 17 rushes with one score.
Junior quarterback Guy Gibbs started his first varsity game, and wasn't especially productive as he completed six of 19 passes for 69 yards with an interception, but did have a pair of scoring passes to wide receiver Max Weisman, who finished with 62 yards on four receptions.
The Bulldogs were stout defensively as they registered five sacks, with senior defensive end Jha'rod Horhn getting two, and junior linebacker Damien Flores helped control the line of scrimmage.
Ayala's offense was never able to fully get into gear, managing 149 total net yards. If Ayala is to prevail, which doesn't seem likely, it will need more yards.
Ayala senior quarterback Michael Morales hit seven of 16 attempts for 109 yards with a pick.
Senior wide receiver Erick Rayford snared two passes for 66 yards, and senior running back Jordan Charles grabbed one for 19 yards. Charles was Ayala's leading rusher, garnering 56 yards on 17 carries, and had a long run of 23 yards.
The Indians will clearly be tested by the Coyotes, who are coming off a 48-14 shellacking of Canyon as junior signal-caller Tristan Gebbia passed for 377 yards, found the target on 17 of 22, and tossed three touchdowns with one interception.
Gebbia's favorite target was sophomore wide receiver Brian Hightower, who grabbed five passes for 75 yards.
Junior Darnay Holmes snared three passes for 109 yards with a touchdown, and sophomore Josh Madison collected two passes for 62 yards.
Burroughs' defense will have to keep a keen eye on Gebbia, and make sure his receivers aren't able to get free for long gains.
Calabasas amassed 153 rushing yards and was paced by senior running back Erik Hillman, who finished with 154 yards on 29 carries and four touchdowns. Hillman's best effort was a 20-yard burst.
Burroughs, which placed fourth in the Pacific League a season ago and missed the CIF Southern Section playoffs under longtime coach Keith Knoop, is more than capable of pulling off an upset, but the Indians will have to play mistake-free on both sides of the line of scrimmage.
Senior quarterback Steven Hubbell will also need help from junior running back Chance Bell, who accounted for nearly 1,200 yards a season ago, and will be a target coming out of the backfield.
Senior Erick Hernandez is Hubbell's "go-to" wide receiver, and if Hernandez, who was the most dependable and productive pass-catcher in 2014, grabs at least a half-dozen, Burroughs will have a fighting chance.
It seems, at least on paper, that Burbank has an easier road to a win this week, while Burroughs is in tougher.