By Jim Riggio
Special to MyBurbank
The Burroughs and Burbank High boys' basketball teams have enjoyed success in recent years, having both reached the CIF Southern Section playoffs a year ago. Both teams will be looking to duplicate that success under coaches Adam Hochberg and Jerry DeLaurie, respectively.  If they are to do so, both will have to look for younger players in their programs to make significant contributions.
Burroughs
The Indians went 16-11 last season and have a nice group returning for Hochberg, now in his sixth year as head coach. The Indians do not have any high-profile transfers like they did a year ago when cousins Amaad Wainwight and Rashid Ewing enrolled at the school. Both played a key role, but left the school right before the start of the CIF Southern Section playoffs.
One important player back is 6-foot junior point guard Steven Hubbell. He averaged 8.7 points, 4.2 rebounds and 2.7 assists a year ago.
Also returning is senior guard and third-year starter Chris Hovasapian (6-0), who averaged 7.2 points per game a year ago.
Junior guard David Schwer (6-3) is a third returning starter. He averaged 5.7 points per game last year.
Senior guard Steven Sanchez (5-8) played quality minutes in a reserve role last year. Senior forwards Jakob Davis (6-3) and Bernardo Rosales (6-0) are also returning varsity players.
Three key players on last season's 18-win junior varsity team are junior forwards Angelo Solis (6-4) and Nick Howard (6-0) as well as junior guard Eric Allen (5-7).
"We have an excellent mixture of varsity experience and youth," Hochberg said. "It will be our chemistry and mental awareness that will guide us this season.  We have a group of guys that play well together and when connected on the court (is) a very competitive group."
The Indians will hope to have big body to help in the paint in junior Ricardo Herrada, who is 6-6 and weighs 295.  Herrada is currently nursing an ankle injury.
Sophomore Justin Henderson (6-2) is a bright young prospect.
Senior guards Bailey McMurray (5-8), Taylor Bercini (5-9) and Angel Cano (5-4) provide depth for the Indians. Senior Scott Dekker (6-2) gives the Indians support in the front court.
Junior guard Rocky Casolan (5-11) and junior forward Elijah Cain (6-1) are two more underclassmen with a bright future.
The Indians are currently participating in the San Dimas Tournament.
Burbank
Third-year coach Jerry DeLaurie enters this season with a lot of promise for the future. But he warns the outcome of this season will depend on how quickly his young talent comes together as just four players return from last season's squad.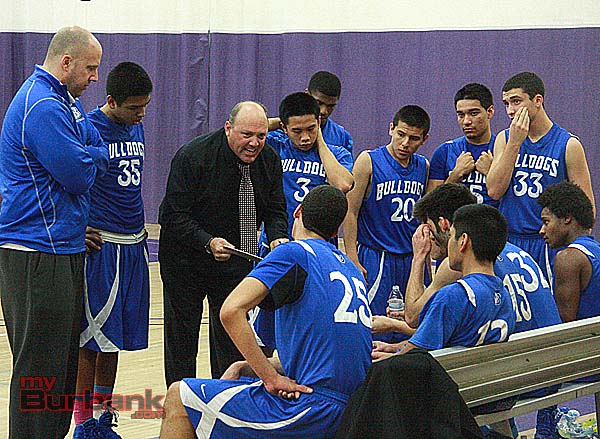 "We have to be very patient. We have to be the youngest team around. This is definitely my biggest challenge in 20 years of coaching," De Laurie said. "For us, it is how we deal with growing. We'll probably have three or four sophomore starters."
The Bulldogs went 13-14 a year ago and will have seven sophomores on the varsity team, two of which played varsity as freshmen.
DeLaurie says his team in well balanced and he said he can go deep into his bench without a loss in production.
Sophomore Mike Woods (6-2) and junior Ellie Hanno (5-10) are clearly the team leaders, DeLaurie said.
"Mike can do a lot of things for us," DeLaurie said. "He has great anticipation for steals. He will do a lot of things in a lot of categories."
The Burbank coach said Hanno averaged 12.8 points per game in the summer and will likely be expected to be a key scorer.
Also returning to the varsity are sophomore Ben Chavez (6-1) and senior Adrian Gonzalez (5-6).
Sophomore Cameron Sweeten (5-10) is being looked as possibly the starting point guard. Senior Robert O'Brien (5-11) is a top newcomer.
The Bulldogs will look to seniors Julian Baker (6-3) and Mohammad Kobaissi (6-2) and sophomore Tommy Clark (6-3) to add muscle on the inside.
Junior Levon Galstyan (6-0) could see time as both a guard and forward.
Junior Edgar Reyes (5-8) and sophomores Mekhi George (5-10), Henrik Anassian (5-8) and Abdullah Kobaissi (6-0) offer more depth to the guard positions.
The Bulldogs are currently competing in the Burbank Tournament as they look to make a positive first impression to their fans.