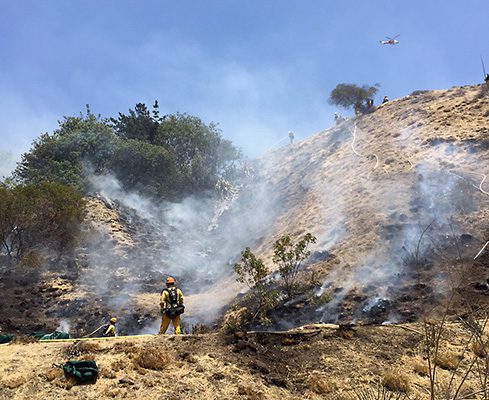 Burbank Firefighters received a call of a small grass fire in the area of Bel Aire Drive and Cambridge Drive near Bel Aire Ballfield Monday right about noon. When they arrived on scene they found they had a working brush fire just north of the field about a quarter acre in size.
The response consisted of three engines companies, fire patrol, rescue ambulance and two Battalion Chiefs. The ground crews got right into action working the burning brush, while an engine company went up to  protect the homes located above the fire on Vista Ridge.
The Incident Commander Battalion Chief Eric Garcia felt that there was a threat with the fire spreading to surrounding brush and he requested  a second alarm response along with a water dropping helicopter supplied by Los Angeles City Fire Department.
The additional manpower along with the assistance of two water drops from the helicopter started to get a handle on the blaze. They reported a knock down about 35 minutes into the call, with companies spending the rest of the day and evening on scene hitting hot spots that remained.
Burbank Police were requested for traffic control along with a forensic specialist to gather evidence.
Burbank's arson investigator determined the cause to be of suspicious nature, and asked that anyone seeing anything unusual should call 911 and report what they saw.