By Rick Assad
In between missing 11 shots to begin the first quarter and tallying 10 points in the final period, the Burbank High boys' basketball team played pretty well and in the process took third place in the Burbank Winter Tournament 61-55 over Oaks Christian on Saturday.
The Bulldogs (4-1) lost one game to Westlake 73-59 in the five-game tourney, but otherwise it was smooth sailing.
On Saturday, three Burbank players scored in double figures and was paced by senior swingman Michael Woods with 16 points.
Senior forward Faraz Khandaker, who was named to the all-tournament team, finished with 12 points while senior forward Abdullah Kobaissi chipped in with 10.
Senior point guard Cameron Sweeten runs the show and he dropped in eight points, six in the opening half.
The tipping point was the second quarter when the Bulldogs outscored the Lions 26-7.
Burbank drained eight of 15 shots and made six of seven from the free-throw line.
Woods scored nine of his points in the frame and nailed two from thee-point range including one with 3:06 left that gave the Bulldogs a 29-20 lead after trailing 15-13 heading into the second quarter.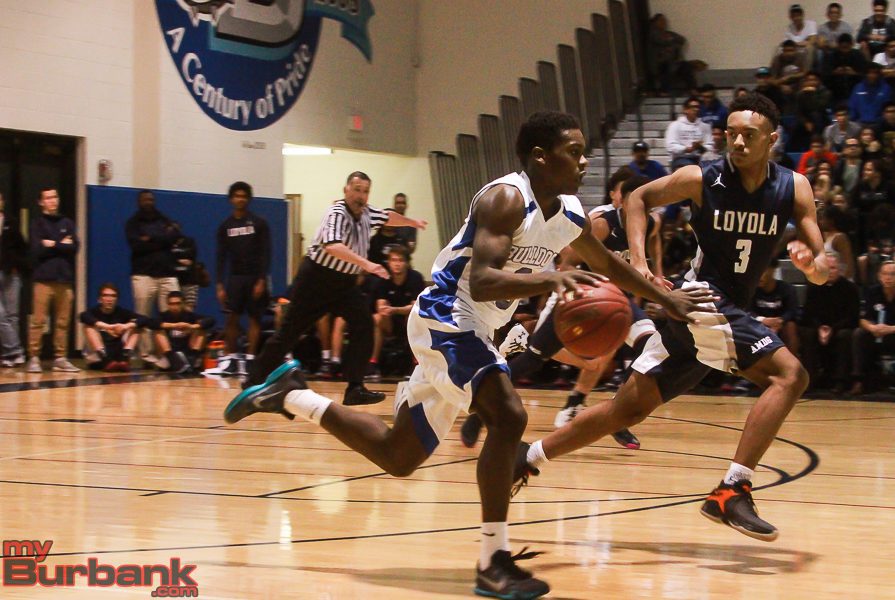 "We've been having slow starts," Burbank coach Jamayne Potts said. "In between the first and second quarter, I told them to settle down and relax and don't take so many threes. Move the ball and get a flow going."
Burbank took command 39-22 at the intermission and shot 54.1 percent (13 of 24).
Burbank is littered with many upperclassmen and that helped right the ship. "This is a senior group. They've played together as a team for a while and they know each other," Potts said. "They're going to be cool down the stretch. They have composure."
Potts also realized the Lions (4-2) were going to stick around. "Oaks Christian wasn't going to roll over," he said. "We have high expectations."
The Lions made it close with a 20-point fourth quarter, but it wasn't enough.
Oaks Christian converted six of 12 from the field and five of six from the free-throw stripe.
Senior wing Brennan Corrigan tossed in six of his game-best 17 points in the final period.
Corrigan had five of his team's nine three-pointers and tossed in 12 points in the second half after being shutout in the second quarter.
The Bulldogs missed their first 11 shots from the floor to begin the game, but then drilled five of eight with Khandaker scoring seven points that included a trey and two free throws.
Burbank shot 42 percent from the field (21 of 50), made eight three-pointers and also hammered 11 of 13 from the free-throw line.
"That's something [making free throws] we didn't do very well last year," Potts said.
The Lions made 18 of 51 from the floor (35.2 percent) and drilled 10 of 13 free throws.
In the other tourney games, the Bulldogs prevailed 64-40 over Roosevelt on Friday behind 27 points from Khandaker, 11 from Kobaissi with senior forward Thomas Clark tossing in 10.
In Thursday's 57-45 win over Los Angeles Marshall, Sweeten led the way with 22 points followed by 18 from Woods.
In the only loss on Wednesday, Khandaker delivered 22 points while Clark had nine and in the 68-27 triumph over Pasadena Marshall on Tuesday, Kobaissi had 12 points, Khandaker 11 and Woods and Clark each scored eight.