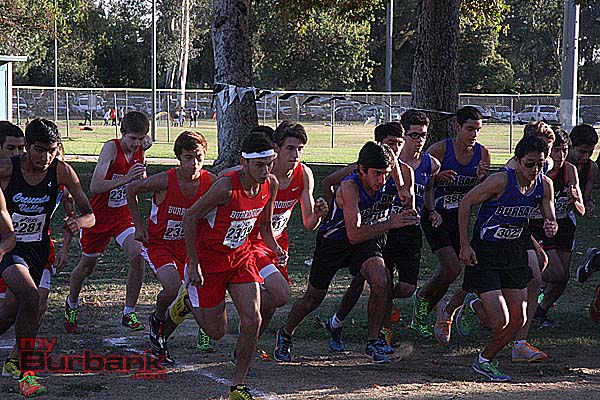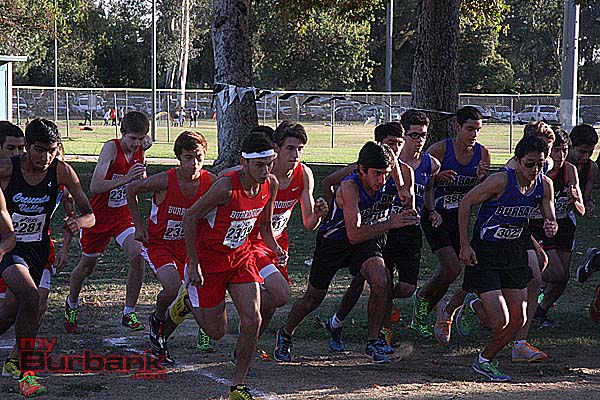 By Dick Dornan
MyBurbank Sports Editor
(Photo gallery and results listed below)
On a crystal clear day in Arcadia, the Burbank and Burroughs boys cross country teams, both of whom had been ranked in the top 10 of CIF Division I a couple weeks back, ran into a reality check on Thursday at Arcadia Park.
In the first Pacific League meet of the season, Arcadia and Crescenta Valley dominated the top two positions with Burbank taking third and Burroughs claiming fourth. Arcadia defeated CV, 26-29, in a tight race throughout. In the girls main event, Arcadia knocked off CV, 27-30, with Burbank taking third and Burroughs fifth right behind Hoover.
Burbank senior Elliot Choe finished eighth overall in the boys race with a time of 15:08.59. The next Bulldog to cross the finish line was Arsen Mkrtchyan in ninth at 15:10.84. For Burroughs, junior Shane Thompson took 11th in a time of 15:14.28 while teammate Ricky Mendez finished second for the Indians and 13th overall in 15:19.10.
Burbank's Candela Fernandez ran a great race finishing third overall for the girls in 17:28.18. Fellow Bulldog Arlette Movsesyan took 12th in 19:01.15. Burroughs was led by Miranda Acosta who finished 23rd in 20:23.43 followed by Dayanna Yanez in 25th at 20:29.11.
Burbank boys individual results:
8.  Elliot Choe 15:08
9.  Arsen Mkrtchyan 15:10
12. Gabriel Ellman 15:15
15. Ethan Moskowitz 15:23
16. Enrique Vizcaino 15:31
22. Andre Vasquez 15:39
32. Sam Gorman 16:17
Burbank girls individual results:
3.  Candela Fernandez 17:28
12. Arlette Movsesyan 19:01
13. Daisy Ignacio 19:04
16. Taryn Stevenson 19:34
18. Caroline Adams 19:57
24. Gabby Collins 20:26
28. Stephanie Solomon 20:40
Burroughs boys individual results:
Shane Thompson – 11 – 15:14
Ricky Mendez – 13 – 15:19
Elias Hoxsie – 19 – 15:34
Garrett Boulais – 20 – 15:36
Everth Vargas – 31 – 16:00
Thomas Switzer – 33 – 16:20
Jack Howe – 35 – 16:28

Burroughs girls individual results:
Miranda Acosta – 23 – 20:23
Dayanna Yanez – 25 – 20:29
Deanna Fierro – 31 – 21:21
Brianna Maya – 33 – 21:36
Laura Rodriguez – 34 – 22:07
Maddy Davis – 35 – 22:10
Bailey Harrison – 40 – 22:59