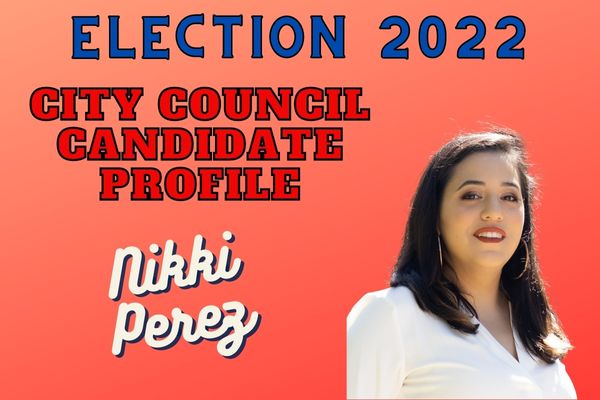 Nikki Perez is a lifelong resident of Burbank who enjoys the "big city benefits with small-town charm" combination that can be found locally. For years, Perez has been a participant in city programs, beginning with the CREST Youth Employment training initiative. She is now a chair of the Burbank Board of Library Trustees, as well as the scholarship chair of the Zonta Club of Burbank. Perez's love for Burbank and her experiences with the California State Legislature, she explains in her myBurbank profile, inspired her to run for a Burbank City Council position.
How long have you been a Burbank resident? What first brought you to the city?
What first brought me to our city? My parents! They immigrated here from El Salvador and Guatemala to enjoy our parks, great schools, public facilities, and to join the small-town spirit of our community. I've lived in Burbank my whole life, and I could not ask for a better place to call home.
What do you enjoy most about Burbank?
We really have a special thing here – we get the best of both worlds. In Burbank, we can enjoy big city benefits with small-town charm. We're the media capital of the world, home to so many wonderfully unique small businesses, and we have terrific parks and so many opportunities to learn and grow with our friends and neighbors.
Where is your go-to place to have a good time in Burbank?
There are so many to choose from! Personally, I'm a huge coffee fanatic and I love Romancing the Bean, and I'll never pass up a meal at Coral Cafe. Overall, I have the best time when I'm on long runs through Magnolia Park and the Rancho. I love exercising and running through our city.
Tell us a little bit about your background leading up to your candidacy.
I've always been passionate about serving our community. My first job was actually with the city, where I worked for our CREST program. I also had my graduate school internship at the City Clerk's Office.
After high school, I graduated with a Bachelor of Arts in Psychology and a Bachelor of Arts in Music Performance from UC Riverside, and summa cum laude with a Master of Social Welfare from the UCLA Luskin School of Public Affairs.
From there I went to work in the California State Legislature, where I had the opportunity to learn at a deep level the inner workings of our local and state governments. I left the legislature for my dream job as the program manager for Kids First, an L.A. City program that brings government, nonprofit partners, and the Los Angeles Unified School District together to successfully lift families out of homelessness.
I currently serve as the chair on the Burbank Library Board of Trustees and am the scholarship chair for the Zonta Club of Burbank.
​In all of these roles and experiences, I've learned how our major challenges impact people at a personal level. I've seen how decisions made by our state and local governments can succeed or fail in providing us with the opportunity to live safe and fulfilling lives.
It was these experiences and my love for my hometown, as well as what it can become, that drove me to run for office. I'm very excited for the opportunity to put my professional background to work for our city.
What is a fun fact about yourself that you'd like to share?
I'm a French horn player. As a high schooler at Burroughs, I played French horn in the marching band. You can actually find a photo of me in my full JBHS band uniform on the wall at Bob's Big Boy!
Note: Some answers have been edited for clarity. All answers are provided by candidates and do not denote verification on behalf of myBurbank.