The last two seasons have been arguably the best in school history for the Burbank High football team.
The Bulldogs still have a nice core intact from last season's Pacific League championship team that went on to the semifinals of the CIF Southern Section Division 7 playoffs. A few players remain from the 2016 team that played for the Division 8 CIF title game.
So the level of expectation is quite high once again for Burbank, under second-year head coach Adam Colman.
The Bulldogs moved up two divisions and will now play in Division 5.
"Whatever division we got put in goes without saying we want to win a ring. We've gotten really close the last two years. When you get that close you can taste it," Colman said. "(Winning) League is obviously a goal, but that's a stepping stone to bigger things. We all want to win a ring. Whatever division we are in we can't control that. All we can control is what we do on the field."
Quarterback Matthew Porras was the co-Pacific League Player of the Year a season ago. The 5-foot-11, 190-pound quarterback who threw 30 touchdowns and over 2,600 yards a year ago, lost a few passing targets, but will still have a great one in senior Erik Harutyunyan (6-2, 190). Harutyunyan has been a star on both offense and defense the past two seasons. An outstanding student and a three-sport athlete, Harutyunyan should be on the radar of every Ivy League school.
The other big target Porras will have is senior tight end Duncan Smith (6-4, 240) who has offers from many major colleges, many of which are in the Mountain West Conference. Junior Ben Burnham (6-1, 175) is another receiver who could shine.
Colman said sophomore Brandon Pena (5-10, 165) could be a star if he continues to work hard.
Running the ball, Burbank returns senior Chadz Vang (5-5, 140) who is extremely quick and changes direction very easily. Junior Issac Glover (5-9, 195) will give Burbank a back who can pick up yards in short yardage situations.
Freshman star running back Jack Sapyta (5-10, 140), who is also an accomplished sprinter in track and field, is expected to begin the season on the junior varsity team along with sophomore quarterback Aram Araradian (5-11, 170). Araradian saw time on varsity last season and is ready to go if needed.
Burbank's offensive line will be led seniors Kris Azizkhani (6-2, 300) and Esper Alsayegh (6-0, 260). Seniors Matthew Sanchez (5-11, 240), Oscar De La Cruz (5-10, 220) and junior Armando De La Cruz (5-9, 225) figure to fill out the rest of the group that will look to push the Bulldogs down the field.
Burbank's defense line will be strong again, despite the loss of star Anthony Lira to graduation.
Karo Koshkaryan (6-3, 235) is a returning all league pick. Joining him will be Smith and Azizkhani. Also in the mix are juniors Seth Jones (6-2, 240) and Devin Housholder (6-1, 190).
Burbank is a little younger, but still very talented in the linebacker position.
Sophomore Max Mendieta (5-8, 185) is an excellent student and Colman said he has a "Nose for the ball."
Sophomore Austin Blacano (6-2, 210), junior Tyler Murphy (5-9, 190) and senior Alejandro Martinez (6-1, 190) also figure to help out as linebackers.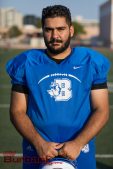 Harutyunyan clearly leads the secondary and will be looking forward to matching up against Moorpark star and USC commit Drake London, when the teams meet in a nonleague contest in Burbank's second game.
Junior Vincent Vang (5-6, 150), junior Ian Miller (5-10, 170), Burnham, Pena and sophomores Owen Cusumano (5-10, 155) and Jarren Flowers (6-0, 165) are all fighting for playing time in the secondary.