Rick Assad
Sports Editor
It wasn't perfection, but it will have to do as Burbank High's football team started off its season with a convincing 38-20 triumph over highly-ranked and host Monrovia on Friday in a nonleague matchup.
Trailing 6-0 early, the Bulldogs used a potent running attack that accounted for 257 yards against the Wildcats, ranked No. 7 in the CIF Southern Section Central Division.
Monrovia entered with a nine-game home winning streak and is the eight-time consecutive Rio Hondo League champion.
The Bulldogs are unranked in the Southeast Division and coming off a season in which they went to the quarterfinals.
"We played okay, but we've got a long way to go before we get to where we want to be," said Burbank coach Richard Broussard, who is in his second season.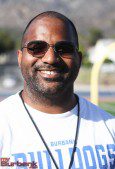 Broussard was pleased with the victory, the first time his team claimed the season opener. "It's the only way you want to be," he said. "We were in a hostile environment, and they're [Monrovia] very good. They're going to be a lot better at the end of the season, and hopefully so will we."
With junior Guy Gibbs, a first-time quarterback under center, Burbank relied on its steady and stout rushing game as sophomore tailback Darnell Williams churned out a game-best 112 yards on 12 carries.
The Bulldogs took a 24-6 lead on their first possession of the third quarter when Gibbs found wide receiver Max Weisman (62 yards on four catches) with a 28-yard toss and 7:41 left.
Monrovia trimmed the advantage to 24-13 when quarterback Asaph Zamora (178 yards on 11 of 27 attempts) unloaded a 76-yard toss to Aubrey Mosley.
The Bulldogs came right back as junior lineman Damien Flores blocked a punt which he recovered deep inside Monrovia territory.
This led to Gibbs (six of 19 for 69 yards with an interception) locating Weisman with a 15-yard offering that made it 31-13 and 8:24 showing in the fourth quarter.
Jonathan McKee's ensuing 95-yard kickoff return for a touchdown made it 31-20, but the Bulldogs responded with a two-yard scoring blast from junior running back Nick Warren, who finished with 62 yards on 17 carries.
The contest started poorly for Gibbs who was picked off by Mosley on his initial pass and was later cashed in on Mosley's six-yard dash that made it 6-0 with 11:36 left in the opening quarter.
"He's got to play better and he knows it," said Broussard of his young signal-caller. "He didn't play well. It's a long season, and he's going to improve. He was nervous in the opening half, but he settled down and was better in the second half."
In short order, the Bulldogs took command 7-6 when junior running back Jake Kelley (63 yards on 13 carries) found the end zone with a four-yard scamper and just under two minutes left in the first quarter.
When Andrew Hank converted a 42-yard field goal it was 10-6 and the margin swelled to 17-6 after Kelley recovered a high snap on a punt at the Wildcats' four-yard line.
Kelley then scored on a one-yard run and just over six minutes remaining before the half.
The Bulldogs are a hard-hitting and swarming defense and it showed as they delivered five sacks including two from senior defensive end Jha'rod Horhn.
"Our defense did an excellent job of getting to their quarterback," Broussard said. "Our defense was the key to the win because it kept us in the game."