By Rick Assad
To date, the Burbank High girls' tennis team is having one of its finest seasons ever.
On Friday afternoon in a CIF Southern Section Division II second-round playoff match against visiting Riverside Poly, the Bulldogs came away with an impressive 12-6 victory.
On Monday, the Bulldogs, who placed third in the Pacific League, will now host Beckman, the No. 1 seeded team, in a quarterfinal match that begins at 2 p.m.
This is the first time that the Burbank girls' tennis squad has advanced this far since 2003.
The Bulldogs (11-4) took every singles set including No. 1 Kristina Kirakosyan, who went 6-0, 6-2, 6-0 against Poly's No. 1 player Kate Santoso, No. 2 Jasmine Dhalla and No. 3 Melanie Mateljan.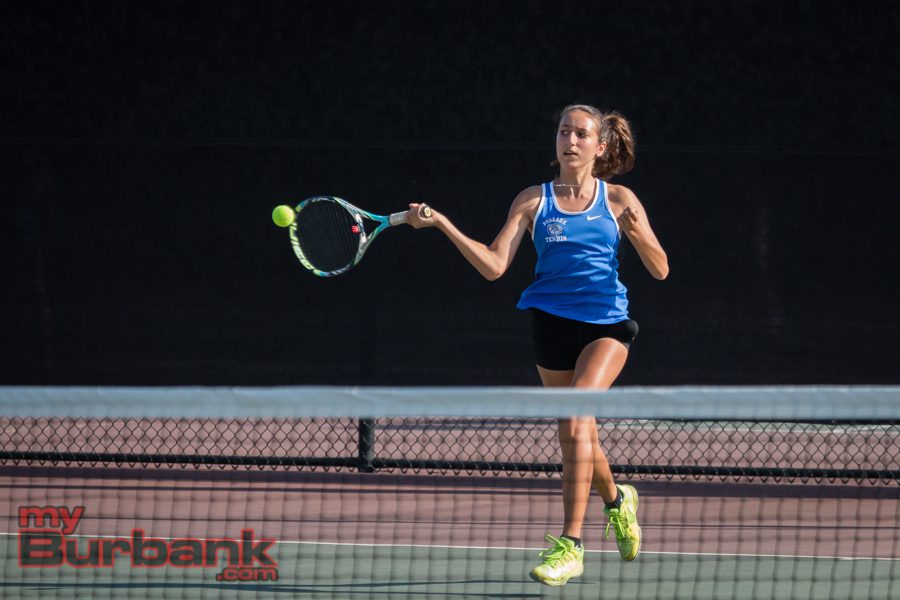 "After winning those I felt really relived, really good, said Kirakosyan, a sophomore of her productive afternoon. "I wasn't worried about it if I lost it. I would just go forward."
Burbank's No. 2 singles, senior Alice Avedikian went 6-0, 6-4, 6-0 over those same girls while junior Johana Faraj, at No. 3, went 6-0, 6-3, 6-2 against that same trio.
In doubles action, Burbank's No. 1 tandem of sophomore Elza Vardanyan and sophomore Bella Lamahna defeated No. 2 Tanner Rowland and Kyley Demshki at 6-4 and No. 3 Mallory Loeb and Myah Perera at 6-2, but lost to No. 1 Maxine Bernie and Torrey Mateljan at 1-6.
Burbank's No. 2 doubles squad of freshman Jinette Faraj and senior Emilie Siraki defeated No. 3 at 6-2, but fell to No. 1 at 0-6 and No. 2 at 1-6.
At No. 3, the Burbank tandem of junior Daisy Kim and senior Krystal Hirahra were knocked off by No. 1 at 1-6, by No. 2 at 3-6 and No. 3 at 5-7.
Riverside Poly ended its season 14-5 and was first place in the Inland Valley League.