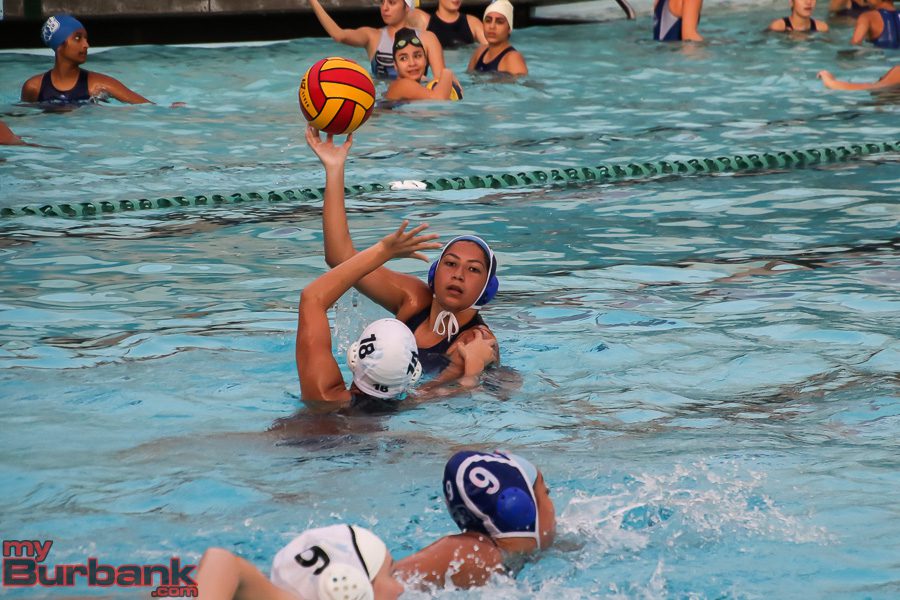 By Rick Assad
A severe and early deficit faced the Burbank High girls' water polo team on Monday afternoon at the Burroughs swimming pool.
Like a dragster taking off and then racing down the runway, the Sailors seized control in the first quarter, added to the lead in the second frame and took home a 10-4 decision in a nonleague match.
"That's something we're trying to work on this year, is coming out with intensity every quarter," Marymount coach Nicholas Amstutz said. "We have four mini-games, so we have a fresh start."
Toni Ashby paced Marymount offensively with four goals including three goals in the second period as the Sailors pulled ahead 9-0 at halftime.
Lizzy Reilly had three scores for the Sailors (3-1), knocking in two goals in the second frame.
"We only have three seniors on this team," Amstutz said of his young squad that led 3-0 after the first quarter. "We have a lot of young talent. We like the three leaders for sure. The three seniors we have are our captains. They've been stepping up a lot."
The Bulldogs (1-1) weren't about to throw in the towel and rallied for three goals in the third quarter to slice the lead to 9-3.
Sera Shahbazian's tally from eight feet and 3:41 on the clock reduced the deficit to 9-1.
When Michelle Morlock knocked home a winner from close range and 2:13 left on the ticker, Burbank came within 9-2.
It became 9-3 with 1:05 left on the buzzer on Sophia Brice's five-foot tally.
Shahbazian's five-footer with 42 seconds remaining in the match trimmed Marymount's lead to 10-4.
Ashby's blast from eight feet and 1:13 remaining on the clock in the opening quarter made it 3-0 in favor of Marymount.
When Ashby located the back of the net from 10 feet and 4:26 showing in the second frame, the Sailors glided ahead 7-0 and with 3:20 on the buzzer, Ashby's 15-footer made it 8-0.
An eight-footer by Ashby with 1:42 showing in the second period supplied the Sailors with a 9-0 advantage.
Reilly's six-footer with 6:17 on the clock in the second stanza handed Marymount a 5-0 cushion and an eight-footer by Reilly with 5:32 left before the intermission pushed the advantage to 6-0.
After Reilly's point-blank shot with 3:43 left on the clock in the contest, the Sailors scooted ahead 10-3.