Students in the Burbank High School Drama program present The Crucible at The Colony Theatre with four shows on Thursday through Saturday, April 11 – 13. The Crucible is a partially-fictional 1953 play by Arthur Miller that dramatizes the 1692-93 Salem witch trials at the Massachusetts Bay Colony.
Directed by Drama teacher Donovan Glover, who's in his second year at BHS, The Crucible includes the entire advanced Play Production class, some students from Karen Broderick's Theater Tech class and a few students from the Drama 2 class who make up the costume and prop crew.
"I love the art of directing, particularly when it's combined with teaching," said Glover, who previously ran the Theatre Academy at CHAMPS Charter High School before landing at BHS. "I am intent on developing a truly great high school Drama program – one not simply for putting plays together, but one devoted to driving, inspiring, and honing the voices of young artists; as well as producing top-notch, thought-provoking theater (regardless of the actors' ages)."
"The young artists involved in this current production are remarkable," commented Glover, who has been directing, writing and acting in theater for almost 30 years. "This is largely the same group of folks that co-created last Fall's kooky and colorful Spamalot."
"Last January, they presented a student-written, student-directed One-Act Festival – an eclectic array of original works. And now, we've switched gears entirely to delve into this raw, dark, and all too timely world of bullying and intolerance."
"There is a central force of devotion in this production," Glover said. "Each cast member is so entirely committed to their role in making this bleak work beautiful and haunting."
"It is such an important work, perhaps now more than in many decades. I hope people will take the time to come see it, think about what is said, and be impressed by how we all say it."
Helping the young actors connect with their Crucible characters and time period more than 300 years in the past was an exercise in itself.
"A couple months ago, I gave the cast an assignment to share their character's life (via an original monologue), as well as present a painting and a piece of music that represented the essence of their Salem character," Glover explained. "One after another, these presentations were astoundingly profound and challenging… and often beautiful."
"Many of the music pieces inspired me in my score-creation for this show. Other than the score, we have stripped the show's production elements down to focus on the actors and Arthur Miller's words."
"Of course, we have costumes (dingy, non-traditional), stark lighting and a minimal, Expressionist set, but what will really stand out when one sees this show will be the grave understanding and powerful depth of these actors' work."
"Along with Karen Broderick and Patricia Tripp [costumes], I've also been helped immeasurably by my acting-coach wife, Maria McCann," Glover added. "Because I get so utterly devoted to what I'm creating on stage, this allows us to be in the same world, and talk the same talk together… which is nice."
"It's been a super awesome experience," said junior Abby Griffith, who plays Elizabeth Proctor. "Personally, it's probably been one of the most challenging roles I've had because typically we do comedies or musicals and haven't done anything dramatic to the scale of The Crucible."
"Getting into her character can be really vulnerable and challenging but it's also been very rewarding," Griffith also said. "It's also been so amazing getting to perform in The Colony Theatre, being able to perform in a professional theater with legitimate dressing rooms."
"My experience with The Crucible was pretty special and different in that there was a major focus on individual character development," commented senior Karo Dzhgalian. "Mr. Glover let us pick a piece of music and a work of art to show that we understand the essence of the character."
"We also were able to go through with Glover's wife, Mrs. McCann, line by line to really dig deep as to what the character is trying to communicate. I thought this really helped me understand my intentions and allowed me to craft a better performance."
"Being in The Colony was interesting in that I think makes the whole experience more genuine," Dzhgalian added. "As someone who wants to pursue acting as a career, I think being able to work and perform in an actual theater as opposed to the school theater was important in that those types of theaters are the ones I want to perform in. Overall I'm pleased with the whole experience and being able to dig deep into this classic and important piece of theater."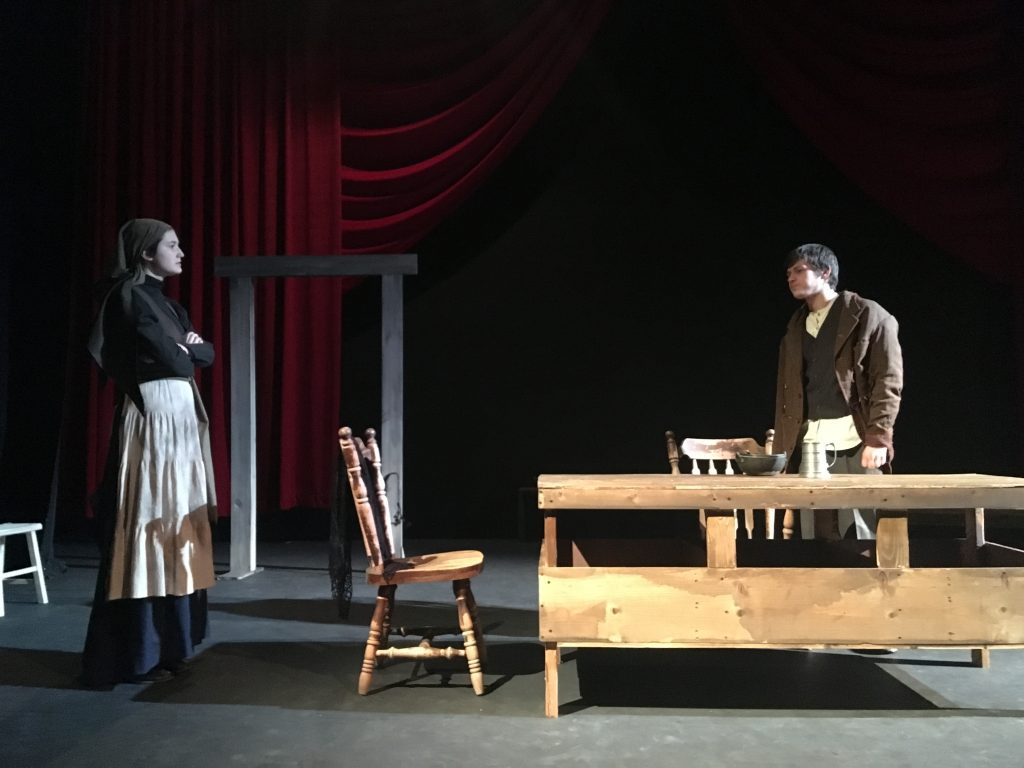 Senior Analise Torres counts The Crucible as her third project as stage manager.
"I love it so much," Torres said. "I have been working with our costuming team and our tech team, and I keep communication flowing between everyone."
"I also help with the creative process like when it comes to movement of the actors or anything tech wise.," Torres also said. "Working with everyone is so great and I thrive in the work environment."
"This show is one of the best I've seen from our ensemble, especially the younger members. It is all coming together beautifully and I can't wait for opening night."
Burbank High School has four performances of The Crucible set at The Colony Theatre: Thursday, April 11, through Saturday, April 13, at 7:00 p.m., with a matinee on Saturday at 2:00 p.m. The Colony Theatre is located at 555 N. Third Street in Burbank, with plenty of free parking in the adjacent parking structure.
Some of the roles are double cast – specifically the roles of Abigail Williams, Mary Warren, Reverend Hale, John Proctor and Elizabeth Proctor. The two groups – the Salem and the Devil casts – perform two of the four shows each.
Tickets are $10 for students pre-sale and at the door with ASB card and $15 for general admission pre-sale and $18 at the door. Tickets are available in advance here.