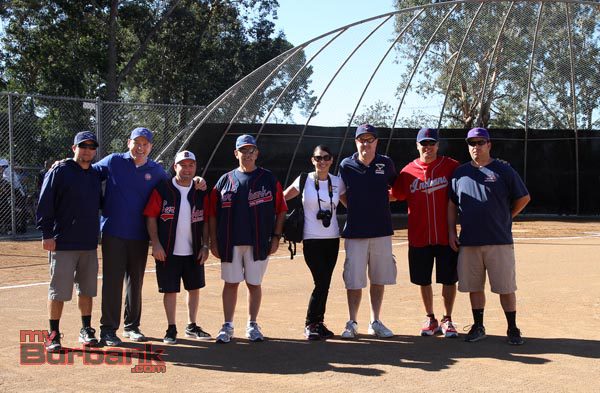 By Rick Assad
Special to MyBurbank
With the hills of Elysian Park sitting close, dozens of palm trees behind the left and right field pavilions, and the San Gabriel Mountains forming a brilliant background, Dodger Stadium may be the most beautiful ballpark in the major leagues.
Brace Canyon Park, which hosted the Burbank Little League opening day ceremonies last Saturday, of course isn't Chavez Ravine, but like the iconic home of the "boys in blue," also has a scenic mountain backdrop and is impressive in its own way.
The festivities lasted slightly more than an hour and featured in full uniform the Junior boys' team (Indians and Orioles), Majors boys' (Dodgers, Dukes and Yankees), Majors girls' softball (Lite It Up, Ruthless, Bees and Deal With The Steal), Minors boys' (Cardinals, Yankees, Dodgers, Braves, Rockies and Angels), Farm (Cubs, Pirates, Bulldogs and Dodgers), Machine Pitch (Braves, Dodgers, Tigers and Angels), and T-Ball (two Dodgers' squads).
Other highlights included the induction of Roger Koll and Mia Card into the Burbank Little League Hall of Fame as well as recognizing the following BLL champions:
13-year-old boys' intermediate District 16 champions, Section 2 champs, and Division runner-up; 11-12 year-old boys' three-time District 16 champs and Section 2 runner-up; 10-11 year-old girls' District 16 champions and Section 2 runner-up; and the Majors and Minors Tri-City champs.
The Majors champion Nationals and Minors champion Cardinals were saluted, and Burroughs High baseball head coach Craig Sherwood also addressed the crowd.
After Little League President Thomas Magoon kicked off the warm day, Burbank Mayor Emily Gabel-Luddy was the next speaker.
"I want to thank the parents, moms and dads and grandparents," she said. "After all the rain we had last week this is a beautiful day. Baseball is my favorite sport. Have fun. Play well with your teammates. Put 110 percent behind it. Let's play ball!"
Koll, along with current safety officer Bob Ranney, Ron Gobble, and Alan Goldberg, were the driving force behind the program which began play in 2001.
"It wasn't just me," Koll said. "It was an effort by a lot of people. We had talks with the Little League National Charter and many others. It was a true grass roots organization."
Koll, an attorney, who has also acted as league president, added: "Little League teaches you sportsmanship. You learn to work as a team. It's fun playing the game. You don't always win, but these kids are going to have a lifetime of memories."
Koll also talked about the hope the foursome had for the league. "We wanted to take it to the next level," he said. "Crescenta Valley was very strong, and we wanted to elevate the program."
Ranney also spoke about how the Burbank Little League was formed.
"I wasn't doing anything so I said OK," he said. "We all got together and we worked with the guys in Glendale like [Commissioner] Dave Ritchie. He was very helpful. I wanted the kids to have a baseball experience."
Sherwood has been a longtime hardball fixture in the city.
"This is baseball weather," he said. "Everybody's in first place. Burbank and Burroughs have done very well the last few years. The success of Burbank and Burroughs are dependent upon the Burbank Little League because the majority of our players have played Little League baseball. We need to support them and encourage them."
Blaine Traxel, 13, has been playing Little League since he was four, and is the shortstop on the Junior Indians, who have claimed three straight District 16 titles.
Traxel started at a very young age, but was he coaxed into playing by his parents?
"It was my idea," he said. "I've always loved playing baseball. I grew up watching baseball with my parents."
Traxel, who will attend Alemany High, said the reason behind the Indians' successful run is tried-and-true. "We have good pitching and good hitting," he said. "Everybody works together. I can always rely on my teammates."
Card's entry into the Hall of Fame is well deserved after being involved for seven years.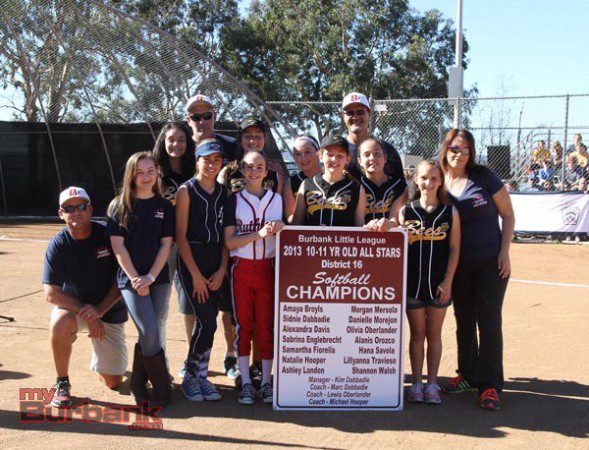 "It's an honor," she said. "They didn't tell me about this until about a week ago. I got involved because of my son [Zachary] and daughter [Jordan]. It's a way of life for our family. You spend a lot of time volunteering, but it's also worth it. We have great memories."
Zachary, 18, plays on the Cal Lutheran water polo team. "It's such a big family thing," he said. "It's a lot of fun."
Zachary was asked if he would have enjoyed the experience as much had his parents not been involved. "It would have been fun in a different way for the friendship aspect of being teammates," he said.
When pressed on his fondest memory, Zachary had a ready answer.
"My first Little League home run at Babe Herman Field [in Glendale]. I hit it over the fence and into the wash. That was so great."