On Tuesday, April 22, members of the Burbank Police Department COPS Bureau offered free coffee to the public in front of Priscilla's, Burbank's oldest coffee house, for the new "Coffee With A Cop' program.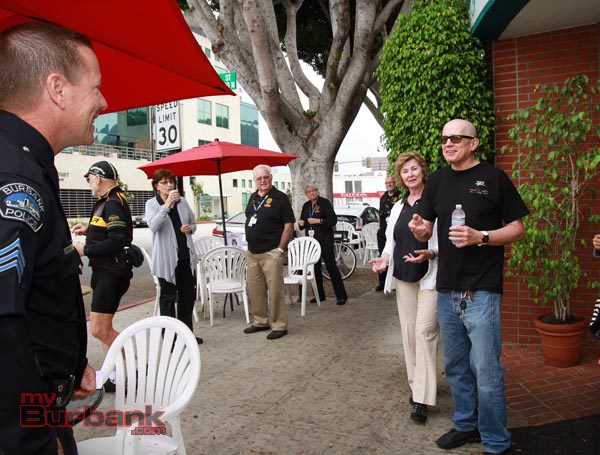 The COPS (Community Outreach Policing) Bureau officers, along with a slew of community volunteers, greeted passersby and those interested in talking with BPD officers. They answered questions on a one-to-one basis in a test program to connect better with the public.
Patrol officers also stopped by and answered questions, including those about reports of residential burglaries that have been occurring in a certain neighborhood in town. Another question by a resident was regarding a traffic problem they have been experiencing and wanted to know who to direct the question to within the city.
Burbank Police Chief Scott LaChasse stopped by along with Elise Stearn-Niesen a member of Burbank's Police Commission, to answer questions. They also thanked the owners of Priscilla's for offering their restaurant for the inaugural Coffee with a Cop program.
The outreach program has been tested with great success in other cities. It's another way to reach out to the public and be able to answer specific questions along with handing out crime prevention materials. The Department plans to make this a monthly event.