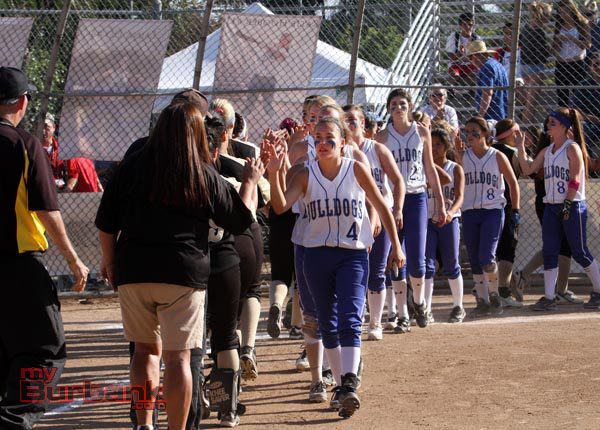 By Jim Riggio
Special to MyBurbank 
For six innings the Burbank High softball team had everything going its way. The only problem for the Bulldogs was that high school softball games are seven innings long. That last-inning lapse eventually led to an 8-7 loss in eight innings as the second seed in the CIF Southern Section Division III playoffs was eliminated at McCambridge Park on Tuesday afternoon.
"With a 6-1 lead you should close the door and we left the door open," Burbank coach Nicole Drabecki said.
Burbank (25-3) received a great effort both on the mound and at the plate from sophomore Caitlyn Brooks.
The Bulldogs pitcher hit a solo home run in the fourth inning. She also had six strikeouts.
Brooks allowed six hits and one run through her first six innings of work before encountering trouble. The Lancers garnered nine hits in the seventh and eighth innings combined to forge ahead.
Sunny Hills of Fullerton (19-8), exploded for five runs in the seventh inning highlighted by a bases loaded double by Shay Knighten. Just a sophomore, Knighten has already committed to the University of Oklahoma. She and her sister, MJ, combined for six hits and reached base in eight of their 10 plate appearances. MJ Knighten, a senior, has signed with the University of Nebraska.
"My (girls) are good hitters. I tried to put the runners in scoring position and allow the hits to happen," Sunny Hills coach Art Jarman said. "The first couple of innings we put runners in scoring position and didn't convert. We got to the end of the game and got runners in scoring position and we converted."
Burbank jumped out to a 3-0 lead in the second inning and controlled the game from the outset.
Jazmin Orozco, who had three hits, led off with a single. She scored on a Julia Duarte bunt single. Bridgette Pisa later had a two-run single.
The Bulldogs added a third-inning run to go up 4-1 as Katie Hooper scored on a wild pitch. The lead increased to 6-1 in the sixth when the tables were turned in a matter of minutes.
Sunny Hills began the eighth inning like it had the seventh, leading off with its ninth hitter, Vanessa Batt.
Batt reached on a bunt single and scored on a triple by MJ Knighten. Shay Knighten later singled home her sister what turned out to be the winning run.
Rallying from a five-run deficit gave Sunny Hills all the momentum. The Bulldogs didn't go down without a fight, however.
With one out, Pisa walked. Caitlyn Brooks was then intentionally walked. Hooper then singled home Pisa but Brooks was thrown out sliding into third base.
Sunny Hills pitcher Riley Nahrwold was able to end the threat by getting Lily Winn to fly out to left field.
"I think the mentality that we're ahead 6-1 got to us," Brooks said. "I also wasn't hitting my spots as well. They're great hitters (Knighten sisters)."
Every player in the starting lineup for Burbank had a hit on the afternoon as the Bulldogs tallied 13 hits total. Brooks said she was glad to see her team give all it had in the end.
"We just didn't string our hits together like they did. We got a run back. We fought hard."
Brooks, who has already committed to the University of Notre Dame, concluded her sensational sophomore campaign with a 25-3 record, 309 strikeouts, 12 shutouts and an 0.78 era. She also batted .526 with 12 home runs and 35 RBI's.
Despite the loss, Burbank finished a spectacular season by winning the Pacific League title, its first league championship since 1987. The Bulldogs did it in style with an unblemished 14-0 record.