Champs Sports Pub has been around for a long time. They claim to be one of the first sports bars in Southern California, they have appeared on Bar Rescue as a failing bar and recently the helpful Honda Guy was there on Super Bowl Sunday filming a commercial.
When you walk in there are plenty of tables and it was not crowded at 1 pm when we were there. On a personal note all the tables are tall bar tables and chairs which I am not a fan of. There are also pool tables and other activities available. The layout is roomy and clean.
Once we sat down it took about 8 minutes before anyone came over to us. Our waitress was nice and polite, just did not spend much time checking on us or refilling drinks unless we asked. Maybe if we were drinking beer instead of soft drinks we might have been a little better attended too?
I went with the signature burger, The Super Champ which is claimed to be a half pound of Angus Beef which comes with lettuce, tomato, onions & pickle and a side of fries for $9.95 and lets you add your own extras for a $1 each so I added cheddar cheese and avocado. I asked for medium rare but was worried as our server did not write anything down. She later came back and asked what type of cheese I ordered so I knew I was in for something.
When the burger came it actually looked great and better than I expected. It was large and the bun looked great – and it was well toasted. I was, however, a little frustrated that there was nothing on the bun like mayo or thousand island, but there was ketchup and mustard on the table.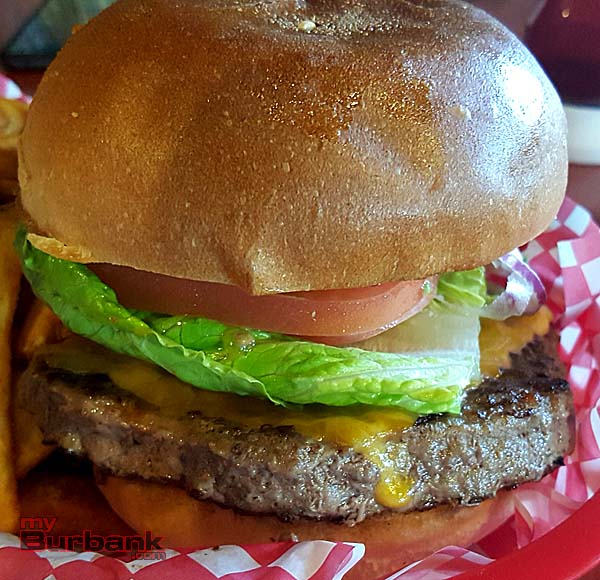 I was still wishing for the best when I took my first bite but was quickly disappointed. To start with, the burger was cooked medium or medium well (why can't a waitress either write things down when you order or at least get them right with the cook) and had zero juice in it. The meat also did not taste as though there was any seasoning.
I was also disappointed with the cheddar cheese and while I assume it was cheddar, had very little taste because there was just not much of it and it was extremely melted onto the patty.
While the patty appeared to be fresh and not frozen, it might be machine packed and not hand packed. It also came with two tomatoes so I had to jettison one so I could at least taste the meat which did not really come to fruition.
While the bun fit well and was toasted, the lack of any spread or anything below the meat led to the bottom bun beginning to get soggy about half way though. Whatever juice the burger had was absorbed by the bun.
It turned out to be a nice attempt at a great burger, but just fell short of expectations – much like the Clippers in basketball.
Side Notes: The fries were ordered well done and once again did not meet expectations. While they were golden brown, they are wiggled. It's amazing how many tell me they like crispy fries but how hard it is to find fries that are cooked that way when you request them. Note to cooks, leave the fries in longer, when was the last time someone ordered well done fries and they were sent back because they were too well done? I also ordered the homemade cole slaw. It was very creamy and I am not sure how fresh it was.  If it was cold it would have been much better,
Champs Sports Pub is located at 4103 Burbank Blvd, Burbank – 818 840-9493. Open everyday from11 am to 2 am.
Champs Sports Pub receives: Could Use a Rewrite

myBurbank Ratings:
Tops In Town (Outstanding)
On The Marquee (Really Good)
Could Use A Rewrite (Average or Slightly Below)
Don't Quit Your Day Job (Poor)
If you would like us to consider a location for a review – let us know HERE