Quick Burbank – where is Dӧner Burger Grill?
Yes, I had never heard of it either until a reader suggested it. To answer the question, it is in a strip mall on the corner of Glenoaks and Alameda, although more on Alameda.
Walking in, you don't feel as though you are in your typical strip mall burger joint. They have taken time and effort to fix up the inside with flooring, and some unique wall signs. The restaurant is very clean inside.
Of course none of that make any difference because this is only about the burger,
Ordered the cheeseburger (surprise) for $6.49 and made it a combo (drink and fries) for an additional $1.99. I was hoping they would ask how I wanted the burger but the question never came, making me wonder what I had gotten into again.
When the burger came I did a bit of a double-take. At first I was going to tell the server that they made a mistake and brought me a sandwich instead of a burger. After taking another look, I realized that the bun, which was not a typical hamburger bun, but a giant fresh roll that had been hollowed out in the middle and was still attached on one side so it acted like a hinge.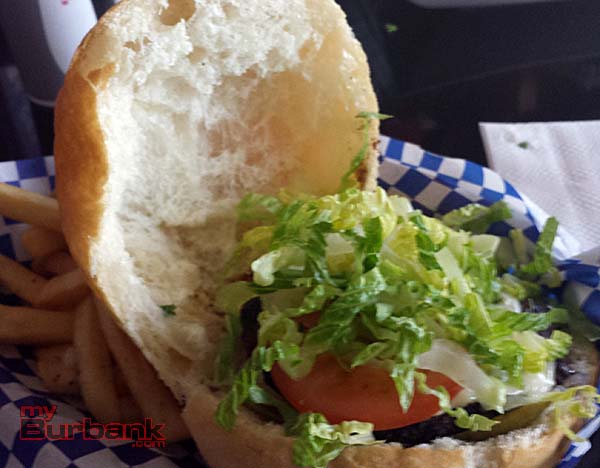 The roll fit the burger well. On the burger came the cheese, an American/Swiss combo along with lettuce, tomato, onion, pickles, a secret sauce and here's a first – parsley. I can not ever remember having parsley on a burger but when you are on an adventure you will try anything.
Of course, no matter the presentation, it is still about the taste.
It was an easy bite as I went through the roll and burger. The taste of the bread did not take away from the burger, but a bit away from the condiments. The problem is that it just tasted dry. The 'secret sauce' must be so secret that they they do not want you to really taste it. All you could taste were separate ingredients, it really did not give an over-all smooth taste.
The patty was cooked medium and they claim it to be a never-frozen, fresh patty. I believe them but it was still a preformed patty. It needs to be cooked to order. For myself, the juiciness of a medium rare burger will speak for itself. The cheese combination did not do much for me either and just did not stand out, another reason a prefer cheddar and the sharper the better.
Overall, I can't give the overall taste the top grade although I do like that the burger in a bun idea was unique and did not disintegrate while I eating it. They do deserve some props for trying something different.  My thought as always is, "If you are trying to do something special to stand out, you have to start with the overall taste of the burger".
Side Notes: Ordered the fries well done (as always) and they came out just regular, with a couple as squiggly as worms. Even though I ordered them well done, I do not believe the girl taking my order ever noted it or told the cook. The fries has some salt and pepper seasoning.
Dӧner Burger Grill is located at 321E. Alameda, Burbank – in the strip mall. 818 859-7388. Open Monday – Thursday 11 am until 10 pm, Fiday and Saturday until 11 pm – Sunday 12 to 10 pm
Dӧner Burger Grill Char-Broiled Burgers receives: On the Marqee

myBurbank Ratings:
Tops In Town (Outstanding)
On The Marquee (Really Good)
Could Use A Rewrite (Average or Slightly Below)
Don't Quit Your Day Job (Poor)
If you would like us to consider a location for a review – let us know HERE