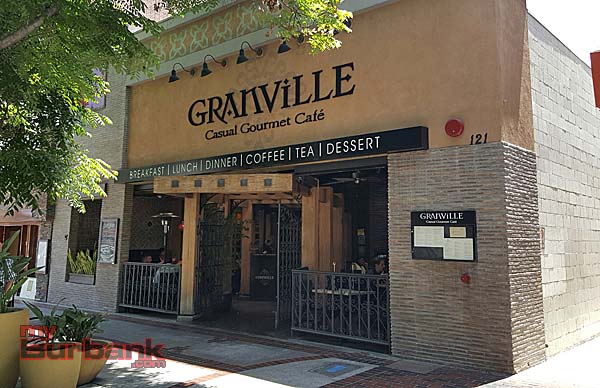 When you head to Downtown Burbank there is always some good news and bad news. The bad news is that you will not be able to park anywhere near where you want to go because the parking and traffic is always jammed. The good news is that at least parking is free. It is one of the small things that makes Burbank special.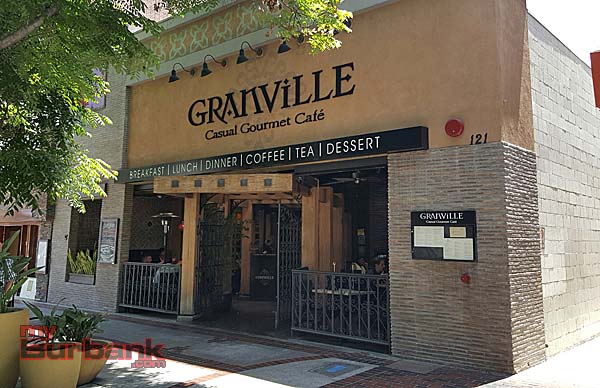 So once you are able to park and hoof it to Granville Cafe, you are welcomed into the open aired building (on hot days). Once entering, you are given a menu and have to wait in line to place your order before finding a seat. Food and drinks are brought to your table.
Ordered the Village Burger with cheddar cheese. It also comes with roma tomato, red onion, garlic Aioli, arugula on a  brioche bun. I had to immediately ask to have the arugula replaced with regular lettuce.  I just cannot eat a burger with leaves, trees and branches.
When the burger came it looked great and for $12, it better look great.  The bun was fresh and the cheese was flowing.  The hand packed patty was extremely juicy and was cooked perfectly medium rare. In fact, on each bite, several drops of juice flowed from the burger.  The only negative was the fact that some of this juice made its way to the bottom bun causing it to get a tad soggy, but was able to stay together until the burger was fully consumed.
What was a little odd but did not affect the burger too much was the patty was actually so loosely hand packed, it started to break apart inside the bun as I was eating it. The Aioli spread on top completed the taste. While I do like thousand island dressing on burgers, I have also come to enjoy the Aioli.
Was the burger itself great – yes. But to me, it should be for the $12 price and after you add french fries for an additional $5.50, you have spent your lunch budget for the week. When you also take into account the parking, it is just not worth it. If you have extra flow and are spending the day Downtown than I get it.  But this is not worth the trip for only the burger, especially if you have a family to feed.
Side Notes: Ordered the fries (they have a large fries but not as large as a steak fry) and asked for well done.  They came brown on the outside but were not well done at all. I was not able to finish them.  I saw other side dishes that I might have tried I did not see when I first ordered after having to negotiate standing in line so I did not try anything else.  The french fries were definitely a fail.
Granville Cafe is located at 121 N. San Fernando, Burbank – on the corner of Olive and San Fernando. 818 848-4726. Open Monday – Thursday  11:00 AM – 10:00 PM, Friday  11:00 AM – 11:00 PM, Saturday  9:00 AM – 11:00 PM, Sunday  9:00 AM – 10:00 PM
Editor's Note: Granville Cafe wants everyone to know that they use only non-GMO Beef and that their surcharge is only $1.50 when you order fries with the burger
Granville Cafe receives: Tops in Town

myBurbank Ratings:
Tops In Town (Outstanding)
On The Marquee (Really Good)
Could Use A Rewrite (Average or Slightly Below)
Don't Quit Your Day Job (Poor)
If you would like the Burger Dude to consider a location for a review – let us know HERE