It was great to have an excuse for having to go to the Smoke House.

Face it, if you have lived in Burbank any length of time, the historic restaurant is known for their amazing prime rib and something else….that's right, the garlic bread!
What's funny is that all the years that I have gone to the Smoke House, I had never tried their burger. This was going to change today.
Yes, on their menu, it was there, the Smoke House Filet Cheeseburger. It is described as a freshly-ground filet, charbroiled, topped with cheese and served on a sesame seed bun. Works for me.
Once the burger came it looked great, the bun and patty looked to be of good size and there was even a side of thousand island on the plate. Not sure why so many of you hate the thousand island when I mention it but haters will be haters!
The burger comes open faced on the plate with a leaf of iceberg lettuce, which is so much better than romaine because of the crispness, as well as a surprise that is not mentioned on the menu, onion crisps! There was also tomato and onion included, but no pickles.
While I asked for medium rare and it was cooked that way, after the first bite I noticed that there was not the usual juice associated with burgers.  It was fresh, just not real juicy. While I did not see it being cooked, I know some chefs press down on patties while they are cooking and much of the juice leaves. The patty was somewhat flat, although it was still good size. Another thought is that because it is made of filet, maybe it just is not juicy.
After about halfway done, the bottom bun began to crack. While it did not completely fall apart, it was still a balancing act to eat and keep it together. The patty was lying directly on top and while there was a small amount of juice, it seemed the cracks were not caused by it.
Overall the burger was good, but I just can't give it a great rating, especially for the $14.95 price. The flavor was not outstanding, probably because of the juice, the bun was iffy and it just did not have that wow factor. I really did like the onion straws as a welcome surprise but the next time I go back to the Smoke House it will be for prime rib, the best in town.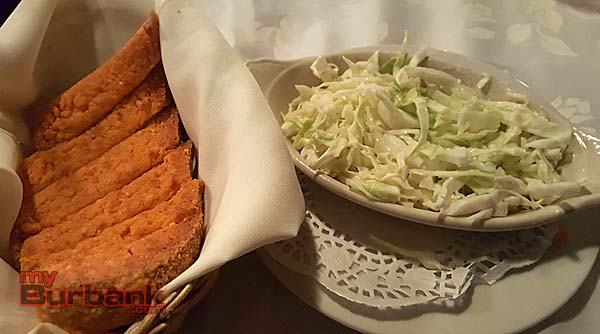 Side Notes: The well done fries were cooked great and had a nice crispness to them. I also ordered some cole slaw and it was fresh but the cabbage was a little large. It was juicy and had a nice large portion.  Of course we had to get some garlic bread.  If you have never tried the Smoke House garlic bread than you need to make a special trip over there and get some.  They also sell it to go!
Smoke House is located at 4420 Lakeside Dr, Burbank, Phone: (818) 845-3731.
Open Monday through Saturday 11:30 am till 11 pm and Sunday 10 am–2:30 pm, 3:15–9 pm
Smoke House receives: On The Marquee

myBurbank Ratings:
Tops In Town (Outstanding)
On The Marquee (Above Average)
Could Use A Rewrite (Average or Slightly Below)
Don't Quit Your Day Job (Poor)
If you would like the Burger Dude to consider a location for a review – let us know HERE