In the season of giving, the Burroughs and Hoover High boys' soccer teams each played well for 80 minutes with the exception of one gaffe each.
Those mistakes turned into goals for each side in a 1-1 Pacific League draw Tuesday afternoon.
"In the Pacific League every game is a grind. If you get a point on the road that's good," Burroughs coach Mike Kodama said. "However, we had a lead late in the game and they (Hoover) capitalized on an opportunity."
The Indians (4-2-1 overall, 1-0-1 in league) and the Tornadoes (0-0-1 in league) played a pretty even match in the first half, but neither side could find the back of the net.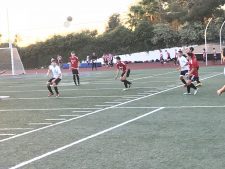 Things appeared to change in the second half as Hoover had the momentum in the early going.
Burroughs goalie Sebastian Kalemkarian was tested in the 44th minute on a left-footed bending free kick from Hoover's Nathan Arakelian.
After Kalemkarian knocked the ball out for a corner kick, Hoover nearly scored on that set piece that finished with Arakelian kicking the ball over the cross bar from a short distance.
Hoover put pressure on the Indians again in the 56th minute only to see Burroughs defender Luis Cortes save what would have been a goal on the line.
But just a minute later, Burroughs stole the Tornados' thunder.
In a bizarre scenario, Burroughs David Gerlach found a way to give the Indians the lead by intercepting a header, which he subsequently headed into the net.
"Out of the corner of my eye I saw the keeper come off his line and I had an opportunity to get in between the defense," Gerlach said. "A Christmas gift would have been a win. All we can do see what we did wrong and learn from this."
From then on the game was mostly played in the midfield as both teams didn't have many scoring opportunities.
But Hoover took advantage of a minor break with just two minutes to play and just after the re-start following a brief intermission while the lights at Hoover went on.
Vladimir Centeno's long throw-in for Hoover bounced in the box and found an open Serop Jejeian, who put the ball in the net from the back post.
"I think we just fell asleep and didn't have anyone at the back post and they (Hoover) were there," Burroughs defender Jake Von said.