It may have been just the first official game of the season, but the Burroughs High boys' soccer team certainly didn't let it show.
The Indians controlled the tempo and dominated visiting Chaminade 3-0 in a nonleague game at Memorial Field.
"I thought early in the game we had to put the pieces together," Burroughs coach Mike Kodama said. "Then as we got to about 10 minutes in we got into a much better rhythm and got a number of scoring opportunities and we capitalized with the two goals."
Burroughs scored its first goal in the 24th minute as Nicky Reinoso scored off a left-sided cross from Anton Prather. Reinoso beat Chaminade goalie Cole Hoevel at the right post.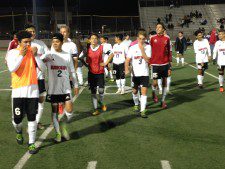 The Indians struck again just a minute later as Prather headed in a cross from the right side by Topli Petko, putting the ball in the right corner past Hoevel.
"I was in the right place, so I finished it," Prather said.
Burroughs goalie Jordan Morgan wasn't tested too many times, but came up big when called upon.
He made a huge save in the 50th minute when he sent a line drive free kick from Chaminade's Fernando Romero out for a corner kick.
Burroughs added to its lead in the 64th minute when Jake Lasso-Spell blasted a free kick over Chaminade's wall and into the upper right corner of the corner.
"I was actually quite surprised it happened," Lasso-Spell said.
Although he didn't figure into any of the goals, junior William Rosales clearly showed he is a dangerous threat with the ball.
He was consistently able to find open players and nearly earned a few assists.
Late in the match one of his crosses was hit just over the goal by freshman David Gerlach.
Kodama said he likes the feel of this team.
"We return a lot of players and it shows," he said. "We have a solid core. That's very helpful."