The Burroughs High boys' soccer team wasn't at its best Wednesday afternoon when the Indians hosted rival Burbank High.
But the Indians did enough to get the job done in earning a 1-0 win and moving into first place in the Pacific League standings.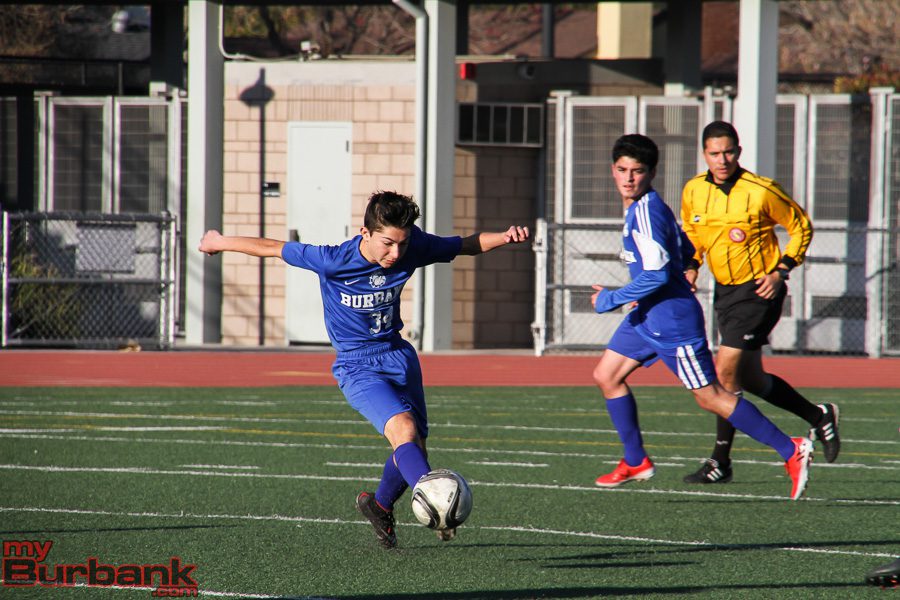 "We played well except for finishing," Burroughs coach Mike Kodama said. "We had a lot of chances. Some days you have days like today where the ball just doesn't go in the net. We were fortunate we got one in and that was enough to carry the day for us. We relied heavily upon our defense.  Our back four are very strong."
Burroughs (12-4-3, 7-2 in league), scored the goal of the match on a free kick in the 12th minute by Jake Lasso-Spell, whose shot from about 35 yards out curved just inside the left goal post.
"I think the goalkeeper even thought it was going wide," Kodama said of Burbank's Andrew Rovira.
Burbank coach Michael Alcaraz praised his team for putting up a tough fight against Burroughs. The Bulldogs dropped to 0-11-2 for the season and 0-9 in league.
"We put up a good battle. There's always a lot of emotion in these rivalry games," Alcaraz said. "I can't say enough about these guys. They played a good game.  It was just an unfortunate result in the end. We came out to play."
Burbank forced Burroughs goalie Jordan Morgan to make five saves.
Burroughs took 22 shots upon Burbank's Rovira, who played in the first half, and Christian Ramos, the second-half goalkeeper.
The Bulldogs had a few set pieces late in the match that were taken by Omar Ibnoujala, but Burroughs' defense was able to clear both the free kick and corner kick.
Burroughs missed a golden opportunity in the 60th minute when Cameron Kelly beat Burbank's offsides trap. But his subsequent shot sailed just over the goal.
Two minutes later the Indians had another great opportunity when defender Diego Galaviz took a free kick that hit the top crossbar but didn't drop down into the net.
"We had too many chances that we needed to finish off," Galaviz said.
Burroughs freshman Carlos Rosales nearly put the game out of reach in the 78th minute when he broke away from two Burbank defenders and had a one-on-one shot with Ramos, who made a foot save on Rosales' shot.
Burroughs center back Josh Sanchez was glad, but not satisfied with the win.
"I think we had a decent performance," Sanchez said. "Today it was enough, but I don't want that to happen again. I want everyone to excel and do well and score a few more goals."