By Rick Assad
In the regular season finale, the Burroughs High boys' water polo team played with determination and conviction against its rival Burbank and after a comfortable lead through three quarters, held on for a 19-13 win in a Pacific League match on Thursday.
"It was a great game. Very happy with the result. My guys played well today," Burroughs coach Jacob Cook said. "It was a building year for us. I'm really happy. I think the guys have grown together."
Both the Indians' and Bulldogs' season will continue as they have the league preliminaries and finals next week.
Senior Chase Legoretta dropped in a match-best six goals for the Indians (11-11 and 3-4 in league), who led 4-3 after the first quarter and 10-5 at the half.
Legoretta tallied two goals in the first and second frames and then added solo goals in the third and fourth as the host Indians outscored the Bulldogs 9-8 in the second half.
"We've always been competitive against this team," Legoretta said. "The past four years I've played, we've always had good games against them. These games could go either way. If felt good to beat this team."
Legoretta continued: "In the first half we had all our starters in with minimal subs," he said. "In the second half we wanted to make sure we got the senior players in because this is our last home game."
Junior Vahagan Sahakyan tacked on four goals for Burroughs while senior Nathan Gault-Crabb added three. Junior Chet Conlan and sophomore Ryan Jaramillo each had two for the Indians.
Legoretta's 15-footer with 4:26 left began the scoring as Burroughs led 1-0 and Legoretta's 12-footer with 24 seconds left gave the Indians a 4-3 edge.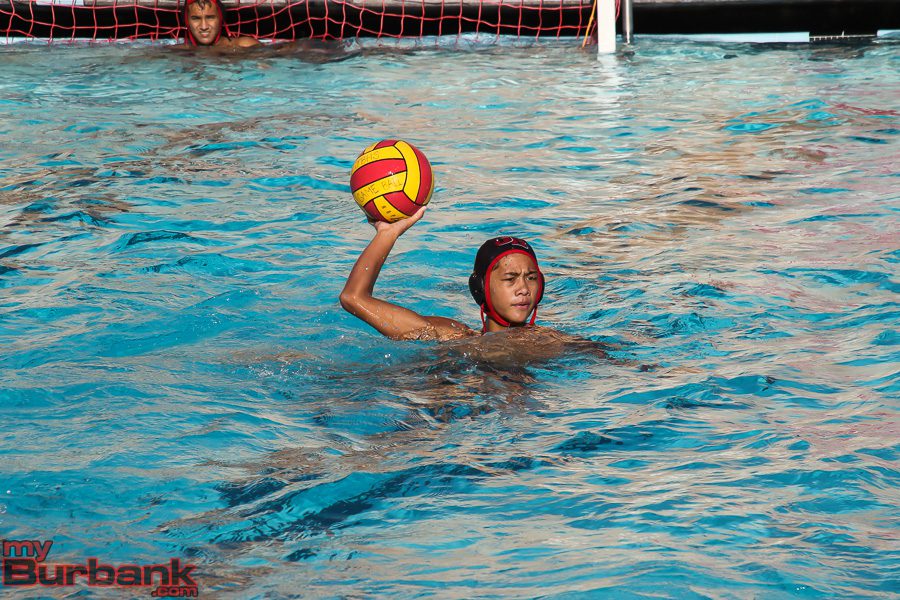 Legoretta added back-to-back 10-foot tallies including one with 2:26 on the clock in the second period that made it 8-5 with 1:16 on the ticker that provided a 9-5 edge.
A 12-foot loft by Legoretta and 1:35 on timer in the third period handed the Indians a 14-7 lead and Legoretta's six-foot blast with 5:09 remaining in the fourth frame supplied Burroughs with a 16-8 cushion.
Senior Sammy Lazaar and freshman Xavier Turla each chipped in with one goal for the Indians.
The Bulldogs (8-9 and 1-6 in league) were paced by freshman utility Johnny Agazaryan, who had five goals while senior driver Varuzhan Bilbulyan finished with three.
When Agazaryan scored from 10 feet and 54 seconds left in the initial frame, Burbank evened it at 3-3.
"We started out exceptionally strong in the first quarter," Burbank interim coach Zachary Card said. "In the second quarter we kind of fell apart. Burroughs kind of landed some shots. Incredible shots. In the fourth quarter we came back. A lot more players were willing to work for their team."
An eight-footer by Agazaryan with 5:50 left in the third quarter cut the Burroughs lead to 11-6.
Agazaryan's five-footer with 3:07 left in the fourth period trimmed the advantage to 17-10 and his 10-footer with 2:45 on the clock drew the Bulldogs to within 18-11.
A five-meter penalty shot with 51 seconds left by Agazaryan closed Burbank's gap to 19-13.
Senior center offense Gevork Kvryan had two goals, while senior driver Arthur Kadzhikyan, senior driver Clifford Roll and senior center defense Artush Gasparyan all had one goal for Burbank.
Senior David Rosales was in goal for the Indians and junior Jacob Shaw was in the net for the Bulldogs.