By Dick Dornan
MyBurbank Sports Editor
It's only mid-July, but tomorrow night's summer VIBL playoff game between Burroughs and Burbank should be quite exciting. Anytime the two rivals go head-to-head in any sport perks the interest of the average sports fan.
Why not gather together and enjoy a midsummer night's meeting of hardball? Game time is set for 7 p.m. at Burroughs.
Yes, this isn't the CIF playoffs. But it does represent a game that will determine who advances in the 14th annual Valley Invitational Baseball League playoffs. Matchups are listed below in the tournament bracket.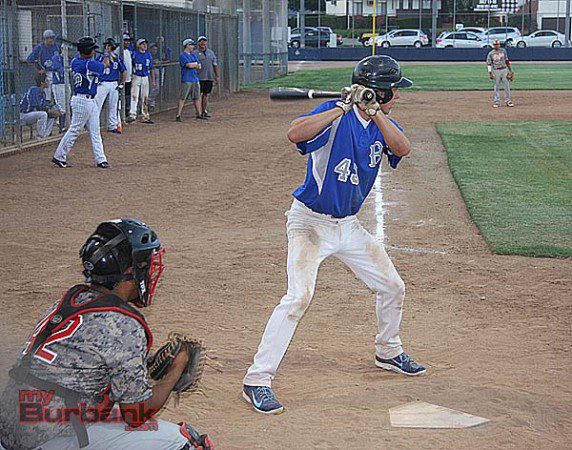 The JBHS/BHS winner will advance to the quarterfinals on Saturday against the winner of Cleveland/Loyola. If the Indians win, they would host the contest on Saturday. If the Bulldogs prevail, they would travel regardless. Games for Saturday are scheduled for 10 a.m. unless the two teams agree to another time.
Semifinals are set for next Tuesday and the championship game for Thursday, July 24, at 7 p.m. at Birmingham High School. The VIBL website is myburbank.com/VIBL.
Burroughs, the No. 4 seed, enters the game with an impressive 15-6 overall record including wins in 12 of its last 14 games. No. 13 Burbank sports a mark of 3-6. Each team was given a required 10-game VIBL schedule. Any other games played or cancelled were at each program's discretion.
The Indians chose to play an aggressive summer slew of games and it has paid off. Recent significant victories include defeating Chatsworth, 4-3, in nine innings, Birmingham (6-0), Camarillo (4-1), Loyola (7-3), and Crespi, 7-0.
Burroughs summer success has come in large part due to the consistency of the pitching staff which currently has a 3.08 era. Ace Danny Bustos owns a 3-1 record with a 1.55 era. He is the expected starter to face the Bulldogs.
Returning arms Thomas Wilson (2.10 era) and Max DeAmicis (2.63 era) have done well on the hill and JV pitchers Jesse Galindo (3-0, 1.96 era) and Kyle Nicol (2-1, 2.00 era) each have had stellar performances in their first varsity action.
At the plate, catcher Tyler Lewis leads Burroughs in hitting with a .408 clip with first baseman Noah Hoed right behind at .405. Seven other Indian players are batting .361 or higher having played in at least 10 games. Newcomer Omar Tejeda from the JV squad has been a pleasant surprise at the plate and defensively at third base.
Burroughs had nine players with at least one hit against Crespi and Chatsworth (15 hits total; six players with two hits apiece). They are batting .326 as a team.
A complete list of Burbank stats was not available as of press time though shortstop Cameron Briggs has had an extremely productive summer at the plate and on the mound. Other players making a positive impression for the Bulldogs include Randy Higgens, Ryan and Danny Porras, Jake Noud and Garrett Dolan.
Each program has a host of seniors and plenty of game experience for the upcoming spring season. This summer tilt should be an entertaining ball game between the cross-town schools. Anything less would be a surprise.
Burroughs Baseball-
Burbank Baseball-
2014 VIBL Playoff Bracket:
Tues 7-15, 5:00
Thurs. 7-17, 5:00
Sat. 7-19, 10:00
Tues. 7-22, 5:00
Thurs. 7-24, 7:00
1 WH West
32
WHWest *
16 Titans *
17 Malibu
8 Royal
Royal *
25
9 King Cats
24
King Cats
4 Burroughs
Burroughs *
29
13 Burbank
7:00 PM
20
Burbank
5 Rojos
28
Rojos *
12 Loyola
21
Loyola
2 Saugus
At Birmingham
7:00
VIBL Championship
31
Saugus *
15 Camarillo *
18 Paraclete
Camarillo
7 Sierra Canyon
26
Sierra Canyon
10 Canyon
23
Canyon *
3 Hart
30
Hart *
14 Braves *
19 La Canada
6 Gas House Gang
27
Gas House Gang *
11 Crespi
22
Crespi
* Denotes Home Team