Everyone likes to call some place home.
DeBell Golf Course is that natural place to Burbank and Burroughs highs.
Wednesday in the fourth Pacific League golf match of the season, Burroughs narrowed the gap toward the top of the league standings and Burbank showed great improvement.
San Marino High finished first scoring 203, followed by Arcadia with 208, Burroughs with 214, Crescenta Valley 231, Burbank with 270 and La Canada with 280.
"This course is like our second home," Burroughs' Ashley Phelps said. "Playing at home we should do better, but there is a lot of pressure."
Certainly it couldn't have been easy for Burroughs after playing a practice round with Crescenta Valley on the same course on Monday.
Coach Greg Everhart said his team shot 202 in that practice match.
"It's unfortunate they didn't shoot the same as Monday," Everhart said. "Our goal is to keep pushing so they have the confidence to play their best when it really counts."
Burbank High Branko Sevic said his team finished out of the league cellar for the first time in three years.
Arcadia freshman Katie Villegas was the low medalist, shooting a one-under par 36.
Burroughs showed consistency in staying close.
Maddie Riggs and Annie Adachi each shot 42. Phelps and Gabija Petrulis each shot 43 and Raelin Arnold shot 44. Bella Nava shot 47.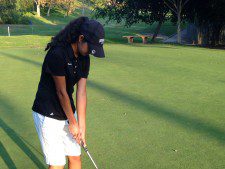 Burbank was led by Amy Tran, who shot 43. Olga Marie Davis shot 46. Pawee Akkharachotmongkhol shot 57, Cassie Vargas shot 60 and Erin Tanner shot 64.