By Rick Assad
Sometimes goals are realized and sometimes they're not. In the case of the Burroughs High and Burbank girls' water polo teams, their objective is fairly simple and it's to qualify for the CIF Southern Section playoffs.
Each team is fairly young, and both have skilled players, so reaching the postseason is a reality. The Bulldogs and Indians will meet on Jan. 23 at Burroughs.
The Indians, who were 12-6 last season and 6-2 in the Pacific League for second place, will be led offensively by senior Aleah Orozco and junior goalie Emanuella Nathan.
Coach Jacob Cook is very optimistic about the team after reaching the quarterfinals a season ago.
"I'm looking forward to growing the team and improving as much as possible over the season," Cook said. "The team is young in experience, but they are hard workers and eager to improve. I don't know how the rest of the league is looking, but we are looking to progress as far as we can."
The team consists of 15 players including 11 seniors and they are Amy Berberyan, Leann Bermudez, Samantha Leano, Megan Sawyer, Brianna Meneses, Bianey Mendoza, Jaelynn Bijasa, Kathryn Vlick, Isabel Rosado and Camila Panozo.
There are four juniors on the squad and they include Madeline Lingad, Chloe Caneday and Mallory Thomas.
The Indians have played a few matches including a 5-4 win over Clairemont of San Diego in which Orozco had a match-best four goals and Berberyan the game-winner, while Nathan finished with 24 saves.
The Bulldogs, who were 7-13 last season, are also quite tender, but eager to learn and are getting better with time, according to interim coach Zack Card, who is filling in for Allyson Young, who gave birth to a bouncing baby girl a few months ago.
There are 11 players on the team, with six players standing out according to Card.
There are three seniors and they are Patil Minassian, Camila Salas and Michelle Morlock.
"Patil is a very experienced player," Card said. "She's a four-year player. Incredible leadership in and out of the pool. A strong two-meter defender and a strong ball handler."
Card spoke about Salas in glowing terms.
"She's another four-year athlete. A strong swimmer and great on the counter attack," Card noted.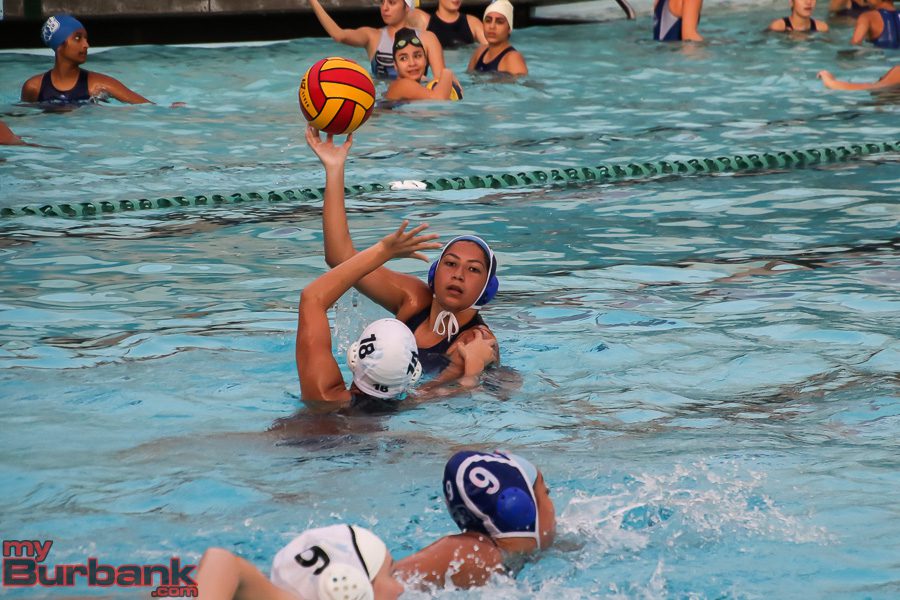 Card then addressed Morlock.
"She's an incredibly gifted athlete," he pointed out. "A strong swimmer. Her mental awareness. Her water polo IQ. It's a gift, really. She never gives up and never makes any excuses."
The other three standout performers are juniors, Sophia Brice, Michelle Morozian and Sera Shahbazian.
Card also praised Brice. "Sophia is a strong counter-attack player with strong fundamentals," he said.
Card also likes Shahbazian. "She's just relentless on defense. Always working away from the ball, helping her teammates," he said.
Card spoke about Morozian and what she brings to the table. "Her ability to play defense is incredible," he said.
The rest of the squad consists of juniors Angie Chavez, Grace Tomasek, Anasheh Abedian, Gabby Aghajanyan and Ashley Karazi.