Burroughs High junior Emily Virtue is generally heads and shoulders above the rest of the Pacific League when it comes to distance running.
Thursday afternoon in the second Pacific League cross country meet, Virtue faced a tough challenge on the Arcadia County Park course.
That challenge came in the form of Arcadia senior Cindy Liang, who ran relatively even with Virtue for about two miles before the Burroughs star broke loose and completed the 3-mile course in 17 minutes, 15 seconds.
Liang finished second in 17:26.
"I was kind of expecting it. It wasn't much of a surprise," Virtue said of Liang.
A national finalist last year, Virtue said she was not running her best Thursday.
"Last year in every race I would just try to go all out 100 percent," Virtue said. "This year I'm trying to be a little more sparing with my races because by the end of last season I was kind of burned out."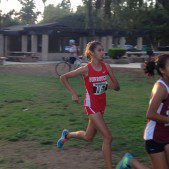 Burroughs won the boys' varsity competition despite an unfortunate incident that saw senior Daniel Fendrich withdraw after accidentally bumping his leg into a utility pole. Fendrich, who was Burroughs' fifth man in the first Pacific League meet, was icing his leg afterwards and said he did not break any bones and expects to be back soon.
Burroughs junior Alexander Hirsch finished second to Crescenta Valley's Colin FitzGerald. FitzGerald won in 14:41 and Hirsch ran 14:44.
Junior Jagdeep Chahal (fourth, 14:49), senior Timothy Wells (14:49),junior Jacob Calderon (15:05), junior Andrew Hoxsie (17th, 15:34) and senior Patrick Wells (23rd, 16:02) round out the Indians.
Burbank, which finished fourth in the boys' varsity team standings, had a fine effort from senior Angel Flores, who finished 11th overall.
"I felt more ready for this race," Flores said in comparison to the first league meet, in which he finished 19th. "I was in the zone."
Also for Burbank, senior Elijah Parrott took 15th in 15:26. Rounding the Bulldogs were sophomore Jahir Olvera (25th, 16:05), sophomore Mario Avendano (29th, 17:01), sophomore Sergio Bernal (32nd, 17:21), sophomore Nick Glover (33rd, 17:28) and sophomore Peter Al-Hasani (36th, 17:54).
In the girls' team competition, Burbank finished second behind Arcadia and ahead of Crescenta Valley and Burroughs, which finished fourth.
Burbank senior Gabby Collins took fourth in 17:56 and fellow senior Kira Bochard was 10th in 18:34.
Also for Burbank were junior Noemi Aprez (12th, 19:09), freshman Sol Fernandez (13th, 19:10), senior Jamie Giammichele (20th, 19:44), sophomore Natalie Danao (22nd, 19:46), freshman Jordan Delgado (20:19).
Rounding out for Burroughs were junior Kenna Guzman (21st, 19:46), junior Saphire Sandoval (23rd, 19:51), junior Catrina Villalpando (26th, 20:54), senior Izzy  Funez (32nd, 22:13), senior Dru Kim (33rd, 22:14) and senior Jailene Diaz (43rd, 25:34).