By Rick Assad
Sports Editor
There have been stretches when the Burroughs High girls' basketball team has had difficulty scoring.
It happened once again in Saturday's CIF Southern Section Division I-A second-round game versus visiting Arroyo Valley.
But the Indians corrected the problem in the third quarter and waltzed to a 45-36 win and now have a quarterfinal match on Tuesday at Moreno Valley.
This is the fourth consecutive year that the Indians have advanced to the quarters including 2015 when they were the No. 1 seed.
"They're athletic and they're big and it took some time to get used to it," Burroughs coach Vicky Oganyan said of Arroyo Valley, who entered the game with a 16-game winning streak. "We've had trouble scoring, but I told them to calm down."
Ahead 10-3 after the opening quarter, the Indians (23-7 and 14-0 for first place in the Pacific League) were outscored 17-9 in the second quarter before a 19-point third period gave them a 38-29 margin heading in the final quarter.
Senior guard Abbey Ibarra finished with a team-high 12 points followed by 11 points each from senior guard Jordan Meltzer and junior guard Kamryn Cardenaz.
Meltzer's hoop gave the Indians a 5-0 advantage with 6:47 left in the opening quarter.
"Our motto is stand strong," Oganyan said. "Do what you do. They're committed and they work hard. Stay together and play together."
Burroughs, which now owns a 16-game winning streak, made six of seven free throws in the second half and converted six of eight overall.
The Hawks (27-3 and first in the San Andreas League at 10-0) went to the free-throw line 20 times and connected on only five, but outrebounded the Indians, 39-28.
Burroughs (16 of 45 for 35.5 percent) dropped in six three-pointers compared to one for Arroyo Valley.
Ibarra had two three-pointers and three free throws in the third quarter after hitting a trey in the first quarter.
Ibarra's three-pointer evened the game at 26-26 with 4:05 remaining in the third quarter.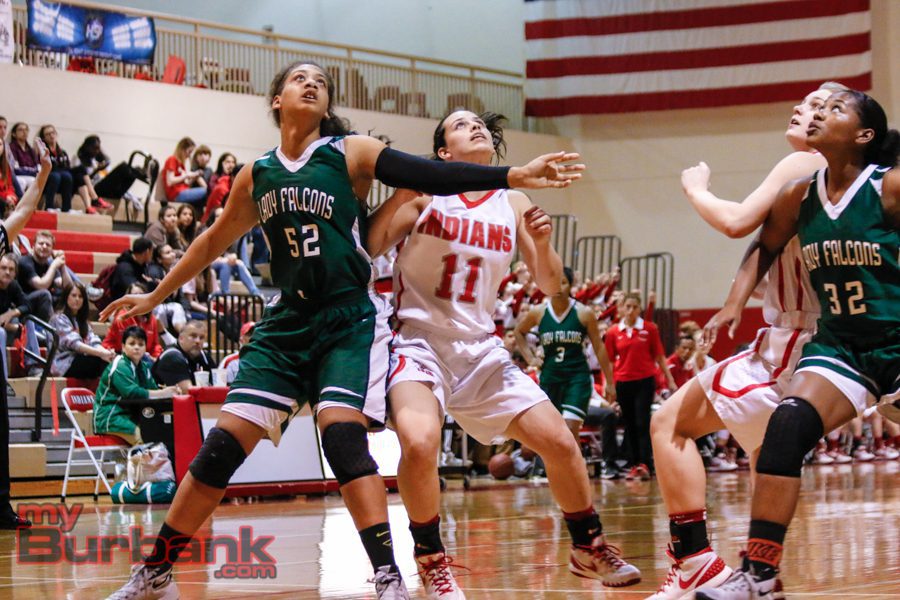 Meltzer (four steals and three assists) also drained a three-pointer with a bucket in the initial period, while Cardenaz (five rebounds) also tallied a hoop in the initial stanza.
Burroughs senior guard Melissa Garcia (seven points with six rebounds) had a five-point second quarter and then hit a bucket in the third quarter.
Senior guard Brooke Radcliff and junior forward Haley Wilson each had a hoop in the third quarter when the Indians, who had 21 turnovers to 23 for Arroyo Valley, sank six of 13 from the field and four of four from the free-throw line.
The Hawks, who had their 16-game winning skein snapped, canned seven of 13 from the field and three of six from the charity line in the second period.
Arroyo Valley freshman point guard Hailey Vergara was the game's leading scorer with 16 points and her basket with 3:50 showing in the second quarter gave the Hawks a 14-10 lead.
Vergara had eight points in the second quarter while freshman shooting guard Madison Fierro tallied all of her four points in the same quarter.
Junior Omari Smith finished with nine points for the Hawks (33.3 percent on 15 of 45) while freshman Shiane Talley accounted for five points and junior Alexis Hunter added two points.