By Rick Assad
Eventually every streak comes to an end and it did for the Burroughs High girls' basketball team which came into Friday's Pacific League match against host Glendale with a 45-game league winning skein.
Shooting 28.5 percent from the floor (12 of 44) and 25 percent from the free-throw line (three of 12), the Indians fell to the Nitros, 29-27.
In the second half, Burroughs made four of 17 field goal attempts for 29.6 percent, but still had a chance to tie or perhaps win in the waning moments.
Burroughs didn't have a player reach double figures and was led by junior center Marin Grote with nine points followed by senior shooting guard Kamryn Cardenaz with eight points.
"This is a competitive league," said Grote, who scored eight points at the half. "Glendale got lucky, but we need to tighten up our offense and we're going to be fine."
The key hoop came with 1:05 left when senior small forward Sylvia Vartazarian, who dropped in a game-best 16 points, canned a three-pointer that saw the Nitros move ahead 29-23.
After making three of 11 from the floor in the opening quarter, Burroughs led 6-4 heading into the second period as Grote tallied four points.
The Nitros (13-7 and 4-1 in league) missed all 11 shots in the initial frame, but then made four of seven in the second quarter and trailed 16-14 at the half.
The Indians (11-8 and 3-1 in league) hit eight of 27 shots (29.6 percent) at the break and missed all four charity tosses.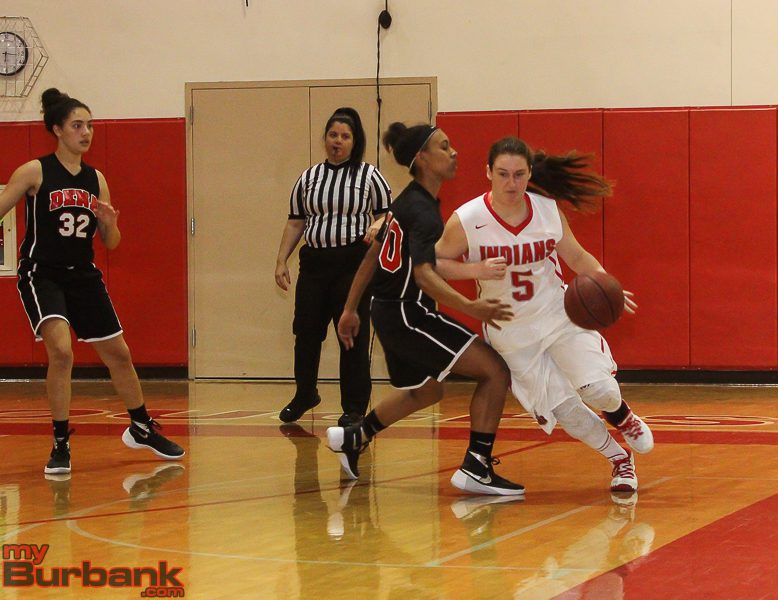 It's not as though the Nitros were shooting the lights out, making nine of 33 for 23 percent, but they did convert nine of 16 free throws.
"The pressure was not on us," Glendale coach Tadeh Mardirosian said. "We came in with the idea of confidence, hard work and a lot of heart. But I have the utmost respect for Coach Vicky [Oganyan] and the way she always has her team playing hard."
Glendale outscored Burroughs 10-8 in the third period and canned three of five from the floor while the Indians converted two of 10 with Cardenaz chipping in with five points.
"We had a good enough defense to win the game," Cardenaz said. "They only scored 29 points. We've been knows as a defensive team, but sometimes we struggle to score on offense."
The poor shooting continued into the fourth quarter as the Indians drilled two of seven from the field with Cardenaz accounting for three points.
Cardenaz and Grote each feel this will be a learning experience and something the team can build upon.
"We don't know what it's like to lose in league and we don't like the feeling," Cardenaz said. "But this will help us get better. We're going to be fine."