By Rick Assad
If there has been one calling card during Burroughs High girls' basketball Coach Vicky Oganyan's tenure, it's been defense.
On Friday evening in a Pacific League match against visiting Arcadia, the Indians used their patented defense and coasted to a 46-32 win.
In three of the quarters, the Apaches failed to reach double digits including a fourth quarter that saw them score four points.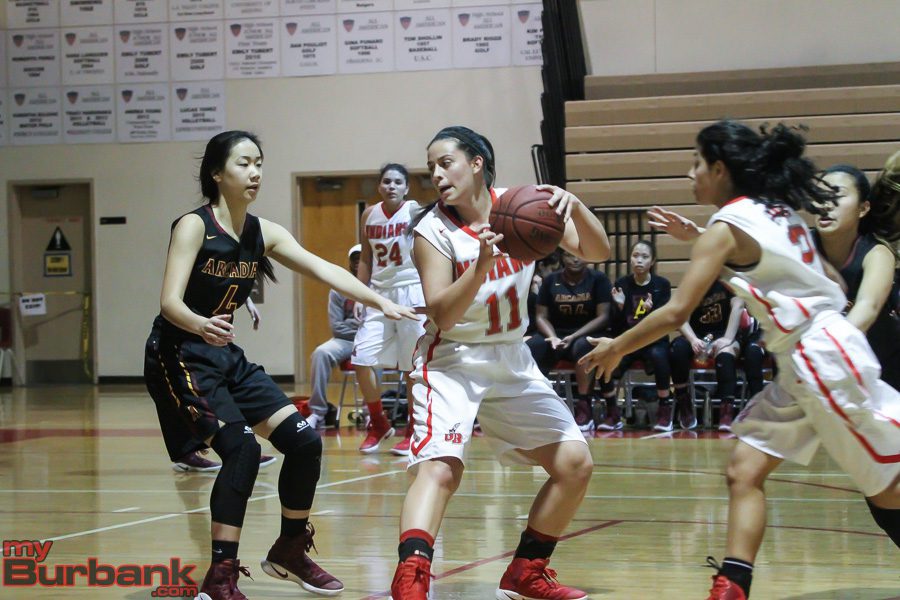 "Every game is going to be tough," Oganyan said. "The girls have been really good on focusing on the game plan. We stress defense all the time. I thought we played pretty good defense. I was happy with our defense."
Meanwhile the Indians tallied double digits in the opening quarter, the second and the third stanza as they led 40-28 heading into the fourth frame.
Senior shooting guard Kamryn Cardenaz set the pace with a game-best 17 points followed by junior center Marin Grote's 15 points.
Both will be key players based on talent and experience. "They've both been on the varsity and they bring that experience with them. The younger kids feed off that," Oganyan said.
Burroughs (10-7 and 2-0 in league) led 10-8 after the initial period with Grote scoring four points and Cardenaz adding three.
"I know what the coach wants," Cardenaz said. "I know that I'm one of the leaders and that's fine. I don't mind being a vocal leader. But this is a different team than what we've had in the past. There are a lot of younger players."
The Indians (17 of 41 from the field for 45 percent) outscored the Apaches 18-11 in the second quarter as Grote dropped in seven points.
Burroughs converted eight of 10 from the field.
"We worked really hard on defense," said Grote who added five blocks. "I'm feeling a lot more comfortable out there. I understand my role better, but it's still a work in progress."
Cardenaz contributed five points in the frame and senior forward Jocelyn Rieken tossed in four of her five points.
When Rieken scored with 4:57 left on the clock in the second quarter, the Indians stretched their lead to 19-12 which forced the Apaches to call time out.
Burroughs took a 28-19 lead into the half after hitting 12 of 25 attempts (48 percent) while limiting the Apaches (8-7 and 0-2 in league) to nine of 27 for 33.3 percent.
The Indians canned three of seven field goals and five of six free throws in the third quarter as Cardenaz scored five points and Grote added four points.
Neither team shot well in the fourth quarter with the Indians making two of nine from the floor and the Apaches (14 of 54 for 23.7 percent) drilling one of 16.
The Apaches outrebounded the Indians 42-33, but also missed six of 10 free throws. Burroughs was successful on 11 of 18 charity tosses.
Sophomore point guard Ariana Farias finished with seven points that included a three-pointer in the third quarter, while senior forward Haley Wilson scored two points in the opening quarter.
Arcadia was led by freshman forward Kennedy Lyles with 10 points, nine coming in the third quarter, followed by sophomore guard Ashley Sue with eight points.