By Rick Assad
Juliana Van Loo and Lydia Grote are generally the top scorers for the Burroughs High girls' volleyball team.
On Tuesday afternoon, the pair were just that and combined for 47 kills to help pace the Indians to a 25-13, 24-26, 25-23, 25-16 triumph over visiting Crescenta Valley in a Pacific League match.
In the first and fourth sets the Indians passed the ball extremely well and in the process located their key offensive threats, Van Loo, who had a match-best 26 kills and Grote, who tallied 21.
In the clincher, after it was tied 2-2, the Indians pulled ahead 8-4 on a kill from Grote, a junior outside hitter.
The Falcons (6-6 and 2-1 in league) evened it at 8-8.
Another scoring spree followed as Burroughs (4-1 and 3-0 in league) darted in front 14-8 on a spike from Van Loo, a senior opposite hitter.
"For the first three sets, obviously, we were really trying to push to get those leads in the beginning and then by that fourth set we were really determined to get the win," said Van Loo, a first-team all-league pick.
Consecutive winners from Van Loo made it 16-11 and 17-11, a tapper from sophomore outside hitter Catie Virtue (seven kills) had the Indians ahead 19-13 and two kills from Grote made it 21-14 and 22-14.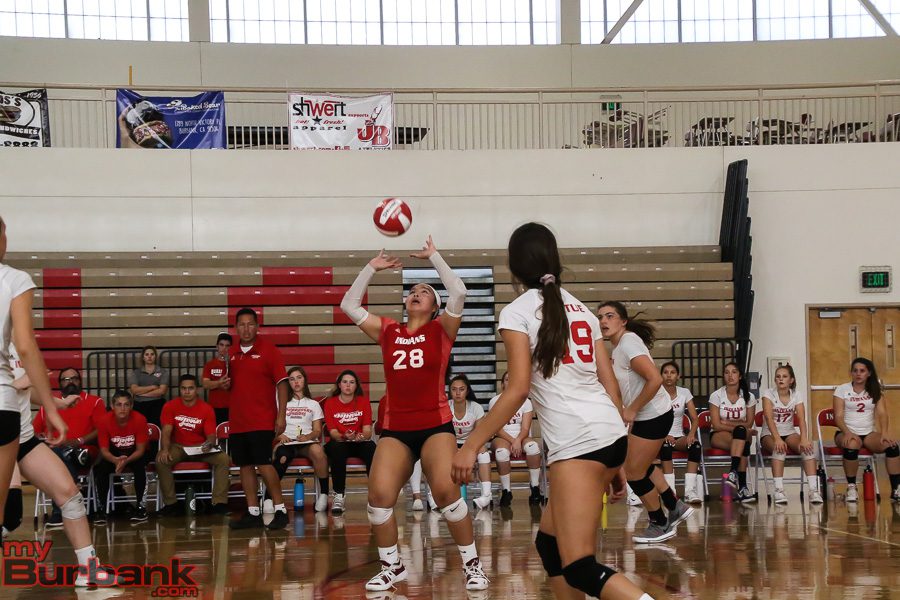 A service ace from senior setter Shea McGovern gave the Indians a 24-15 edge and Grote's spike handed the Indians the set and match.
Burroughs came out in the opening frame and bulled its way ahead 6-2 on Van Loo's dagger and 11-3 on another spike from Van Loo.
The Indians bolted in front 15-6 on a kill from junior middle blocker Camila Sanchez-Tellez and Grote's winner pushed it to 19-10.
Van Loo then unloaded two kills as Burroughs extended its advantage to 21-12 and 22-13.
"We talked about being consistent in game three and game four," Burroughs coach Edwin Real said. "We cut down on some errors. The first game we passed it very, very well. We just had our way. Early in the fourth it was a little suspect, but then we cleaned it up pretty quick."
Burroughs senior defensive specialist Jolene Soliman delivered two straight aces that made it 24-13 and Virtue's tapper gave the Indians a one-game lead.
The Indians led 8-4 in the second frame on Van loo's kill.
It became 10-7 on an ace from Burroughs senior libero Caitlin Kim.
Virtue's kill supplied the Indians with a 14-9 edge, but the Falcons drew within 14-11 on an ace from junior outside hitter Lizzy Kerman, who had nine kills.
It was deadlocked at 16-16 before Crescenta Valley took an 18-16 lead when Grote's shot hit the net.
The Indians came within 20-18 on Grote's blast, but the Falcons inched ahead 22-21 on Kerman's tapper.
It was level at 22-22 on Van Loo's kill and 24-24 on another Van Loo spike.
The Falcons claimed the final two points on tappers from Kerman and senior opposite hitter Teny Noordemeer.
The Falcons led the third set 5-2 on an ace from sophomore defensive specialist Jamie Santos.
"In game four their big hitters executed," Crescenta Valley first-year coach Matt Simons said. "They took care of business. Great hitters make great plays. Those two carried them. I don't think we lost that match. They won that match."
Crescenta Valley then moved in front 10-6 on a service ace from senior defensive specialist Cathy Dong, however, the Indians came within 13-10 on a kill and two aces from Van Loo.
The Falcons marched in front 17-14 on a rocket from senior outside hitter Kaitlin Karsten (team-high 11 kills), but the Indians took over 21-18 on Van Loo's kill.
"I'm proud of the way the girls played. We had several close matches in the preseason against good teams. In losses you can learn more than in wins because you're open to learning," Simons said.
Virtue's spike evened it at 21-21 and it was tied at 23-23 on Van Loo's kill.
A mishit by senior setter Madison Blohm made it 24-23 in favor of Burroughs and Kerman's shot hit the net for the set.