By Rick Assad
Under ideal weather conditions and a large crowd, the Burroughs High girls' water polo team hosted city rival Burbank on Wednesday afternoon.
The Indians started off quickly, were not threatened in any real sense by the Bulldogs and after 28 minutes of action, Burroughs garnered an 8-1 Pacific League triumph.
As usual, the Indians, who own a four-match winning streak after falling to Crescenta Valley, 9-6, on Jan. 8, were led by senior Aleah Orozco, who delivered four goals and two assists, including three tallies at the intermission.
Burroughs seized command 2-0 after the opening quarter and were ahead 4-1 at the half.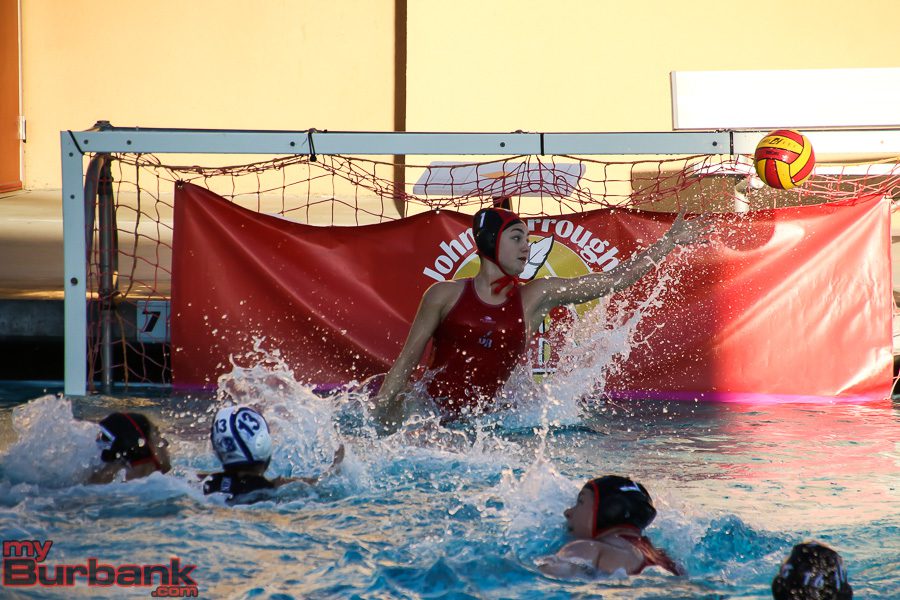 "When I look back on water polo I think about my team," said Orozco, who will not play water polo in college, but has applied to a half dozen universities including UCLA, UC Berkeley and Stanford. "We have a really good dynamic. We've been kind of unsure into the season, but as it's progressed, we realize how strong we can become together. We have really high hopes."
Up next for Burroughs will be the league playoffs followed by the CIF Southern Section playoffs.
The Indians (8-7 and 5-1 in league) then added three goals in the third period and tacked on a solo goal in the fourth frame.
"It wasn't an easy game. They [Burbank] put up a good fight on defense," Burroughs coach Jacob Cook said. "They put up a lot of good shots on Emma. I thought both teams played really well."
The scoring began with 4:34 left in the initial frame when Orozco tossed in a point-blank shot past goalie Suzy Misiryan, who finished with 10 saves.
Orozco then unloaded a three-footer with 1:32 showing on an assist from Camila Panozo as the Indians moved ahead 2-0.
When Orozco let go an 18-footer with some help from Brianna Meneses and 6:19 left in the second quarter, Burroughs' lead swelled to 3-0.
The Bulldogs (6-14 and 2-4 in league) sliced the deficit to 3-1 when senior Michelle Morlock scored on a 12-footer that buzzed by goalie Emmanuella Nathan with 3:16 left in the opening half.
"We must have had at least 20, 25 shots, but we weren't hitting them," Burbank interim coach Zack Card said. "But it could have. It would have been a different game if we had more experience."
Several of Burbank's shots either hit the crossbar or the sidebars and others just missed going into the net by a mere foot.
Panozo's 12-foot loft with a slick pass from Orozco and 19 seconds left gave the Indians a three-goal lead.
When Meneses scored from 14 feet with a handy assist from Jaelynn Bijasa and 4:33 showing in the third quarter, the advantage expanded to 5-1.
Panozo's 12-foot tally on a long pass from Nathan made it a five-goal lead and 1:20 remaining in the third quarter.
An 18-foot goal from Bijasa and an assist from Orozco with 43 seconds left on the ticker made it 7-1.
Orozco had the only goal in the fourth quarter and it came with 2:17 remaining and was a 10-foot dart.
The Burroughs junior varsity girls' water polo team is having an incredible season and is undefeated and should bolster next year's varsity squad which will see 10 players graduating.
This past weekend, the Indians, who are 17-0 including a win over Burbank on Wednesday, captured the Alta Loma Tournament and had victories over Redondo Beach, Chino Hills, Arcadia, Notre Dame and Santiago in the championship match.