By Rick Assad
Special to MyBurbank
It's not going to be easy for Burroughs High quarterback Andrew Williams and wide receiver Conor Joyce to have a better outing than they did in Friday's Pacific League opening victory over Glendale at Moyse Field.
After falling behind by a touchdown on two occasions in the first quarter, Williams threw four scoring passes to Joyce as the Indians throttled the Nitros, 35-14.
Williams connected on 15 of 16 attempts in the first half for 200 yards, and then completed five of six for 71 yards in the second half. The senior had his best game yet finishing 20 of 22 for 271 yards.
"We're both seniors and we've worked together for a few years," said Williams, who also picked up 40 yards rushing on eight carries. "This combination is going to get better and better. My job is to score and put points on the board."
Joyce, who is listed at 6-feet-4 and 180 pounds, snared seven passes for 85 yards and three scores in the opening half and finished with eight receptions for 102 yards.
"They're both seniors and they've played together for some time," Burroughs coach Keith Knoop said of the duo. "Glendale gave us some stuff that left us wide open and we took advantage."
Knoop also spoke about the fairly rugged preseason schedule that saw the Indians lose to Paraclete 45-14 and Camarillo 48-14, with a 30-7 win over North Hollywood stuffed in the middle.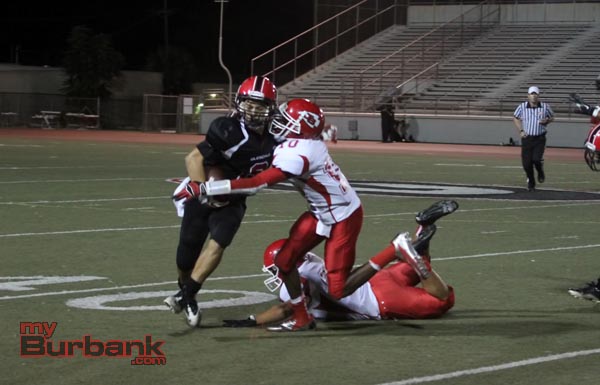 "It's going to be good for us that we played a tough schedule," he said. "It's going to help us."
Not to be overlooked was the Indians swarming defense that applied pressure on Glendale senior quarterback Kevin Felix (four of 12 for 56 yards) all evening and limited Glendale's ground attack to 132 yards.
The Nitros (2-2 and 0-1 in league) led 7-0 and resembled the University of Oregon's quick-strike offense. The score was set up when junior running back Michael Ospina (72 yards on nine carries) fumbled which was recovered by junior linebacker Luis Ruiz at the Glendale 30-yard line.
Two play later junior tailback Daniel Jung, who had only one carry and is limited because of a leg injury, was off to the races as he scored from 72 yards out and 7:42 showing in the opening quarter.
Williams then took the Indians (2-2; 1-0) on an 80-yard trek that covered five plays with junior running back Javier Pineda (41 yards on five carries) scoring on a 20-yard dash up the middle and 4:50 left in the same quarter that knotted it at 7-7.
Glendale's second touchdown of the first quarter was again helped by an Indians turnover after a punt was fumbled and pounced on by junior defensive back Sam Peplow.
This time it took one play before it became 14-7 as Felix located senior wide receiver Martin Marin (49 yards on three catches) with a 32-yard aerial in the left corner of the end zone and 2:56 showing.
From there it was all Burroughs which tallied 28 consecutive points and accumulated 515 total net yards, including 222 yards on the ground.
Williams put together a nine-play, 65-yard march that made it 14-14 when he drilled Joyce with a four-yard offering and 10:40 left in the second quarter.
Glendale (191 total yards) punted on its next series and Burroughs drove 53 yards on nine plays and was capped when Williams hit Joyce with a six-yard toss and 3:55 left before the half for a 21-14 advantage.
The one-sided affair became 28-14 on Burroughs' next possession as Williams closed the 67-yard, seven-play march with a five-yard pass to Joyce as 22 seconds remained before the intermission.
On Burroughs' initial series of the second half Williams led the Indians 73 yards on 11 plays which culminated when he spotted Joyce with a 17-yard throw as 1:27 was left in the third quarter for a 21-point lead.
Burroughs will now entertain Crescenta Valley, who is undefeated at 4-0, on Friday at 7 p.m. at Memorial Field.
####
Burbank (4-0, 1-0) continued its impressive roll by dominating Arcadia, 51-14, on the road in the first league game for both teams. Quarterback Ryan Meredith completed 15 of 20 passes for 172 yards and four touchdowns, including two to Oharjee Brown (four catches for 40 yards).
James Williams rushed for 126 yards on eight carries and scored four touchdowns, three of which came on the ground.
The Bulldogs meant business from the outset scoring on all six of their first half possessions to take a 44-7 lead into the break. The No. 9 ranked team in the CIF Southeast Division hasn't been slowed yet outscoring its opponents 199 (49.8 ppg) to 47 (11.8) in its first four games.
Burbank will play a struggling Pasadena team on Thursday night at 7 p.m. at Memorial Field. Pasadena has scored only 33 points and given up 156 in its 0-4 start.
####
Burroughs photo gallery-