Momentum was the key and at times the Burroughs High boys' volleyball team had it and at times it didn't.
In the end, the momentum shifted away from the Indians as they fell 25-20, 18-25, 25-16, 24-26, 15-8 in the CIF Southern Section Division 2 championship against Oak Park High at Cerritos College in Norwalk.
"In the fifth game, whoever comes out stronger and has the momentum is really in control of the game," said Burroughs senior Andrew Dalmada, who finished with a match-high 27 kills.
Top-seeded Oak Park (31-4) jumped out to a 5-1 lead in the fifth and final game before Burroughs called a timeout. The Eagles went on and was in control from there.
"It has been our goal for four years of varsity. I'm really proud that we finally made it," Burroughs setter Ryan Van Loo said.  "We just didn't finish. We had the momentum going into the fifth set, but I'd like to have that one back."
Third-seeded Burroughs (29-6) stayed tough with Oak Park for much of the first game. A kill by Dalmada tied things at 16, but Oak Park came back strong by the trio of Alex Parks, Grigory Manyak and Sean Fitzpatrick.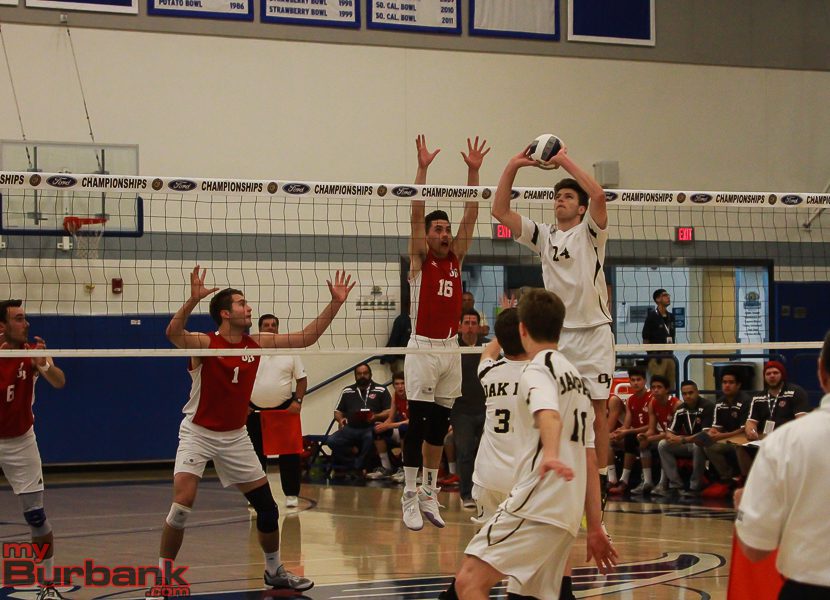 A different Burroughs team showed up in game two. The Indians jumped out to a 10-5 lead before Oak Park called a timeout. But that didn't fix the Eagles problems as Burroughs continued to roll.
Oak Park got as close as 22-18, before Burroughs closed the game out thanks to two Oak Park mistakes.
"When you look at the stats they were pretty consistent and we were up and down and that turned out to be the difference,' Burroughs coach Joel Brinton said.
The momentum shifted back to Oak Park in the third game.
Burroughs fell behind 10-6 and called a timeout. The Indians cut things to within two points on four occasions before Oak Park opened things up and could not be caught.
The fourth game saw a close battle. Burroughs went up 18-14 before Oak Park stormed back to tie things at 21.
A kill by Cameron Capili, one 19 he had in the match, gave Burroughs a 22-21 lead.
Oak Park came back to tie things at 24, before kills by Dalmada and Bailey Carter pushed the match to a fifth and deciding game.
Burroughs will now move on to the CIF Regional Tournament.
"These guys don't want to go out on this note," Brinton said. "It will be nice to come back out there and put their stamp out."
Van Loo finished with 55 assists, four kills and 10 digs. Junior Conner Ludlum had eight kills. Carter finished with six kills.
Capili had 11 digs and Skyler Bercini had 10.