It isn't a secret that emotions run high any time Burbank and Burroughs square off in any contest.
The key is trying to limit that factor.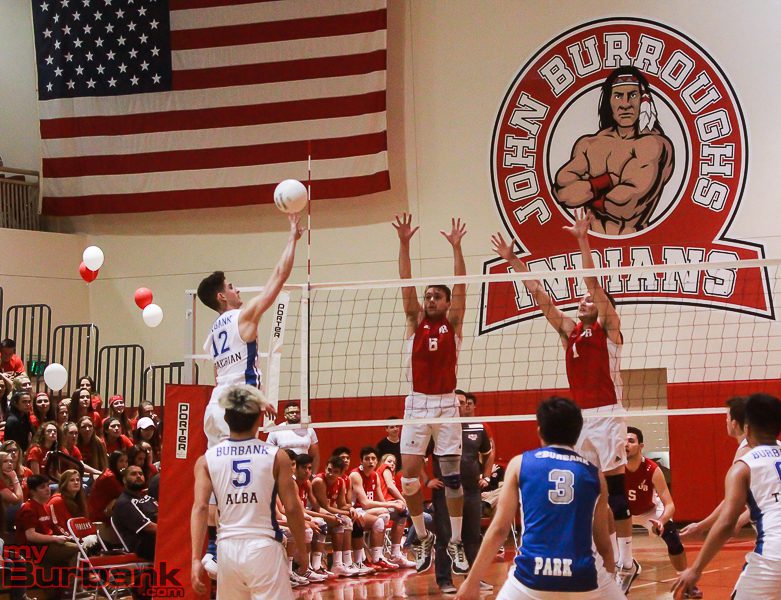 The Burroughs High boys' volleyball team, ranked No. 3 in the CIF Southern Section Division 2 poll, was better at doing that Friday night.
The host Indians defeated the Bulldogs 25-20, 25-15, 25-20 in a battle of unbeaten teams in the Pacific League.
"We try to downplay Burbank-Burroughs and treat it as another game.  It's kind of hard for teenagers to do that, but I thought our guys did a pretty good job of that," Burroughs coach Joel Brinton said. "A couple of times our errors got a little high because we were trying to do a little too much because it is Burbank-Burroughs.  But other than that, I thought we played really well. Our passing was great and allowed Ryan (Van Loo) to set wherever he wanted."
Van Loo, who has signed with 2015 NCAA Division I runner-up Lewis University, finished with 34 assists.
"The town comes together, but for us it's just another game," Van Loo said. "We try to make it a championship game every day and I think it prevails. We have that same mindset that we play hard, which is good."
Burroughs (12-1 overall, 5-0 in league), jumped out early in the first game to an 11-4 lead before Burbank attempted to halt that run by calling a timeout.
Andrew Dalmada, who finished with a match-high 14 kills, and Bailey Carter, who had five kills and six blocks, did much of the damage.
Burbank (12-6, 4-1) fought back to get as close as 17-12, before the Indians closed out the first game.
"Burroughs is very strong this year, so the margin for error is smaller when you face them," Burbank coach Patrick McMenamin said. "I thought we did a good job of stretching some points, but it wasn't quite enough to take a set. "
Burroughs scored the first four points of the second game and was never threatened.
Burbank held a lead at 4-3 in the third game, before the Indians bounced back.
The Bulldogs made it 10-9 following a kill from Aram Krakirian.
But Burroughs met that challenge on the very next play with a kill from Connor Ludlum.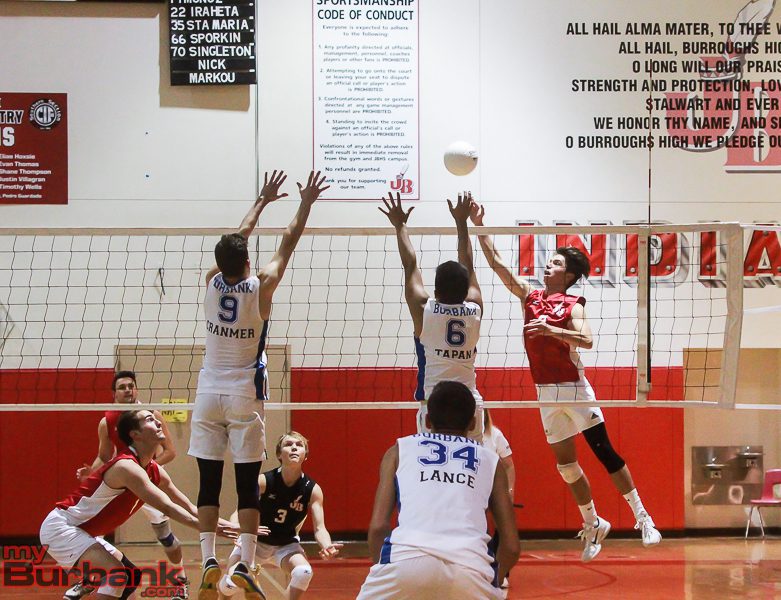 "They did a better job of staying in system than we did and it's tough to respond when the other team is in system more," McMenamin said. "We had to play better transition. At times we did and it brought us some points, but again it was too little too late."
Burroughs received 7 kills from Cameron Capili. Burbank got five kills each from Brandon Alba, Zack Cranmer and Patrick Lance. Setter Jonathan Tapan had 20 assists.