By Dick Dornan
myBurbank Sports Editor
Drum roll please….
Without further ado, it's time to officially present the winner of the "myBurbank CUP" trophy presented by Trophy King and Gifts to John Burroughs High School.
By virtue of its 79-56 victory over Burbank High for the 2014-14 athletic calendar year, the Indians have won the inaugural "myBurbank CUP."
"It is an honor for our school to win the 'myBurbank CUP' because it is the first time that our community has a competition that takes into account all team sports," said Matt Chambers, Burroughs Assistant Principal of Athletics. "This trophy is not about an individual's performance, but rather the efforts and success of all programs."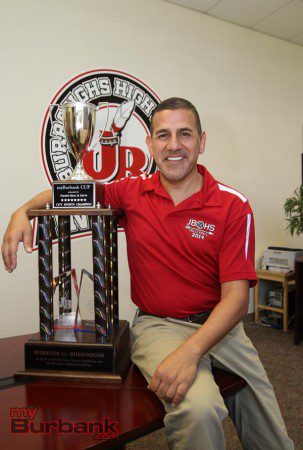 For the very first time in the school's athletic histories, a challenge was presented to each school's athletic departments to compete and earn enough points to claim the newest trophy in town.
This coveted and stunning trophy will be annually recognized for "the spirit of cross-town competition and the pursuit of athletic excellence."
The "myBurbank CUP" presented by Trophy King and Gifts will be presented in August of each year to the athletic department of either Burbank or Burroughs High School. The trophy will remain at the winning school to showcase to its community until the winner is decided the following year and so forth.
The winner between Burbank and Burroughs was determined by the accumulation of points based on head-to-head varsity competition and athletic achievement (league titles, playoff success, bonus points for season sweeps against each other) during the school year. This pertains only to team competition and not individual achievement.
During fall competition, Burbank ran out to an early and huge 35-12 lead by taking the head-to-head battles (13-7) and conquering in athletic excellence (22-5).
Burroughs responded with a strong winter by dominating Burbank, 26-6. This included a 7-3 advantage in head-to-head matchups and a 19-3 victory in athletic excellence.
The spring sports season arrived with Burbank holding a narrow 41-38 lead in the race for the "myBurbank CUP." An anticipated close duel turned out to be a mere afterthought as JBHS poured it on with a decisive 18-4 win in head-to-head competition and a 23-11 advantage in athletic excellence as BHS struggled down the stretch.
Burroughs took the spring by a total of 41-15 which resulted in a surprisingly easy 79-56 win in cumulative points to take ownership of the first annual "myBurbank CUP."
"Any success that was earned during the 2013-14 athletic year can be attributed to the commitment of our players, dedication of our coaches, and support from our parents," said Oscar Macias, Assistant Principal of Instruction at Burroughs and loyal supporter at many Indian sporting events.
Last week myBurbank Sports Editor Dick Dornan presented the "myBurbank CUP" trophy to Burroughs Principal John Paramo and the athletic administration (Matt Chambers, Athletic Directors Marty Garrison and Jose Valle).
We would like to thank Burbank's own Trophy King and Gifts located at 1509 W. Magnolia Blvd. They helped create and design this incredible trophy that will be kept each year at the winning high school. Please visit at http://burbanktrophies.com or call at (818) 848-3566.
The trophy features a base where each year Trophy King and Gifts will inscribe the winner of that year's competition in either blue for Burbank or red for Burroughs.
On top of the base are beautiful acrylic pieces that feature the logos of both Burbank and Burroughs High School.
The top of the trophy features a magnificent silver cup that will stand out in the trophy case for the winning high school each year.
Wear your red or blue with school pride. Each athletic event now carries more meaning in the city than ever before. With that being said, best of luck to both schools this year as the battle for the "myBurbank CUP" resumes.
Here are the 2013-14 results sport by sport; contest by contest; season by season-