The Burroughs High boys' cross country may be one of the best teams in the CIF Southern Section.
But the Indians know they have to be their best in league meets because the Pacific League competition is tough.
Burroughs won the boys completion in the first league meet Wednesday at Crescenta Valley Park followed by Arcadia and Crescenta Valley.
Burbank High finished second in the girls team competition, trailing just Arcadia.
Crescenta Valley High junior Colin Fitzgerald won the boys' varsity race, covering the 3-mile course in 15 minutes, 32 seconds.
Burroughs junior Alexander Hirsch, who was running in his first meet of the season, took second in 15:43.
"For a first race I felt it went well," Hirsch said. "I didn't want to overdo it on my first race. The pack ran very well. I hope to see more of this later in the season."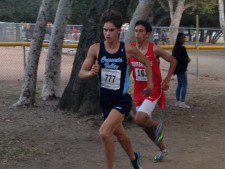 While Arcadia finished closest to Burroughs in the standings, it was Crescenta Valley that opened some eyes as the Falcons appear to have created  a great showdown with Burroughs for the next couple of years.
Burroughs, which had four underclassmen in its top seven, saw all seven of its runners finish under 17 minutes.
CV, which has no seniors in its top seven, also had all seven under 17 minutes.
Junior Jagdeep Chaahal (fourth, 15:50), senior Timothy Wells (fifth, 15:58), junior Jacob Calderon (eighth, 16:15), senior Daniel Fendrich (10th 16:18), junior Andrew Hoxsie (17th, 16:33) and senior Patrick Wells (22nd, 16:46) round out Burroughs top seven.
Burbank, which finished fourth in the league standings, got some solid performances from seniors Angel Flores and Elijah Parrott. They finished 19th and 20th in 16:39 and 16:40, respectively.
Burbank had four sophomore take the team's third and through sixth spots with Jahir Olvera (27th, 17:48) leading the charge. He was followed Nick Glover (28th, 17:53), Peter Al-Hasani (30th, 18:28), Sergio Bernal (34th, 18:42) and senior Samir Malhotra (36th, 19:16).
"We're still training hard. Some of our varsity boys have run faster through two miles in route than they did in track," Burbank coach Kathryn Nelson said. "We're seeing a big improvement. This league is full of incredible teams.
On the girls' side Burroughs Emily Virtue won by over a minute, winning in 18:18. Arcadia then had a pack of six runners, which helped the Apaches easily win the team title.
"I didn't have a plan since this was my first race of the season," said Virtue, who was battling tendinitis last spring. "It was just like I wanted to see what I could do."
Burbank was led by senior Gabby Collins (eighth, 19:45). Freshman Sol Fernandez (11th, 20:39), sophomore Natalie Danao (13th, 20:46), senior Kira Bochard (14th, 20:47), senior Jamie Giammichele (18th, 21:13), freshman Jordan Delgado (26th, 22:13) and freshman Sofya Arakelyan (33rd, 23:40) round out the Bulldogs.
"Our goal was to get second," Nelson said.
Senior Heidi Eligio (ninth, 20:02), junior Sapphire Sandoval (15th, 21:02), junior Kenna Guzman (22nd, 21:32), sophomore Lakely Nealis (25th, 21:53), junior Ana Villalpando (27th, 22:24) and junior Catrina Villalpando (31st, 22:57) round out the Indians.