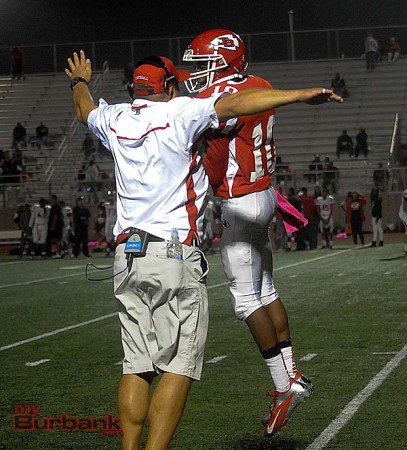 By Dick Dornan
MyBurbank Sports Editor
With two weeks left in the regular season, the Burroughs High football team is right where they want to be. Coming off the heels of a 69-0 shellacking against Hoover last week, the Indians made it back-to-back shutouts with a 38-0 pasting of Pasadena on Friday night at Memorial Field.
"It was a good win. We were supposed to come in here and beat them and we did," Indians wide receiver Conor Joyce said. "The first quarter was a little closer than we anticipated. But in the second half we came out and executed and made it a blow out like it should have been."
Leading 3-0 at the end of the first quarter and 17-0 at halftime, the Indians broke out in the third quarter scoring 21 points to put the game away.
As Burroughs (5-3, 4-1) made quick work of the Bulldogs, Muir defeated Arcadia 48-7 and Crescenta Valley throttled Hoover 56-16 to create a three-team race for the league title. Muir is 5-0 while Burroughs and CV are tied at 4-1 with the Indians owning the tie-breaker based upon their 24-17 victory against the Falcons a few weeks back.
Two more Burroughs victories versus Arcadia and Burbank and a CV upset of Muir and a league title becomes a reality. Who would have thought of that after Muir's 42-7 victory against JBHS on October 11?
Led by a ferocious defense spearheaded by the "MANNimal," Hawkins Mann, and a strong offensive performance, Burroughs is beginning to peak at the right time of the season.
"We are making huge improvements. Everyone is making positive strides," said Mann, who transferred to Burroughs from Idaho in week two of the season. "I'm having a blast. I love it here. This is great."
Mann's physical and emotional presence has energized an Indians defense that is playing with aggression and high intensity.
The San Diego State-bound defensive lineman has quickly become a fan favorite for his hard hits, unbridled passion and relentless style of play.
"I think that's what I bring to the table," Mann said. "I try to be a team leader and lead by example. I play with passion and fire in my belly. Keep it going all the time."
Burroughs took a 10-0 lead on Pasadena (1-7, 1-4) when Andrew Williams (nine of 12 for 145 yards) found Javier Pineda on a wheel route for a 20-yard touchdown pass with 2:49 left in the first half.
Four plays later Eric Gordon returned a punt 45 yards to the end zone and a 17-0 lead heading into the break.
On its first possession of the second half, Burroughs scored when Pineda (188 yards on 19 carries) took off on a 72-yard run that elicited ooh and aahs from the crowd after Pineda shook off several tacklers the final 10 yards en route to six points.
The rout was completed when the Indians scored on back-to-back plays. First, Williams connected with Joyce (three catches for 60 yards) on a 49-yard post pattern to make it 31-0.
Moments later, Gordon stripped the ball from a Pasadena ball carrier and returned it 15 yards and a touchdown for a commanding 38-0 lead.
With the "Big Game" looming in the distance on November 8, Burroughs must avoid a "trap" game next Friday at Arcadia. Muir travels to play CV at Glendale High School in a monumental matchup on Friday while Burbank plays at Hoover on Thursday evening.
Only three teams from the Pacific League will earn automatic bids. The fun has just begun. Just ask the MANNimal as the fire burns in his belly.