By Dick Dornan
MyBurbank Sports Editor
Caitlyn Brooks is having the time of her life.
As the catalyst of the No. 1 ranked team in CIF Division III, Brooks is leading the Bulldogs along a journey that she and her teammates hope will result in two championships: a Pacific League title and a CIF title. Not since 1987 has Burbank softball captured a league championship. With Brooks being the dominant pitcher she has been this year, it might be a matter of "when" and not "if."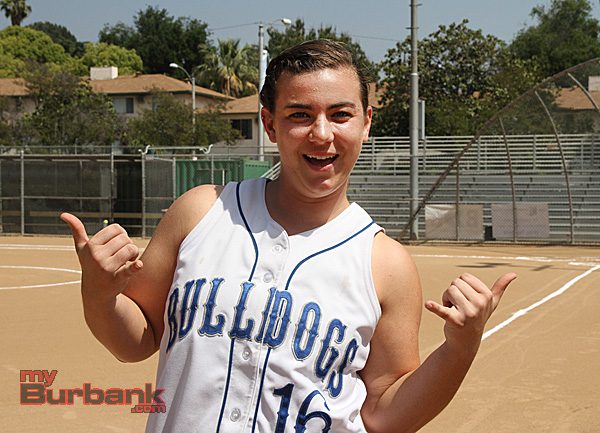 Burbank is currently 20-2 overall and 10-0 in league with a two game cushion over three-time defending champion, Burroughs.
"This season has been exciting because it's new for everyone. We did really well last year and this year we have kept that going," Brooks said. "It's just fun because we are all bonding together. There is no drama and we do well when we have fun.
"We definitely want to win league but as long as we do our best the league title will come. We do think about CIF and just want to get there too."
Brooks, 16, has been a dominant force in the circle this season. She is 20-2 with 19 complete games, 10 shutouts and a staggering 0.61 earned run average. Her strikeout to walk ratio? Try 18 to 1. As the most feared pitcher in the league and quickly becoming one of the best in all of Southern California, the sophomore sensation has 259 strikeouts and only 16 walks.
"My pitching from last year to this year has really improved. I think it's because of being on my travel team," said Brooks, who plays for the popular So Cal Choppers U18 Gold team during the summer. "My pitching has really helped me get that confidence on the mound."
In addition to her remarkable pitching statistics, Brooks leads Burbank in all of the offensive categories: batting average (.492), runs (33), hits (31), RBI's (30), home runs (10), and doubles with seven.
"Caitlyn is a coaches' dream. She is a winner and a great leader. She's competitive and she wants to show she is the best out there," Burbank coach Nicole Drabecki said. "In my opinion, I think she is actually the best pitcher in the country. She is only 16 years old and she has room to grow. I back her up completely."
With two more seasons to grow and improve as a high school player, Brooks' stature will continue to rise. College recruiting will intensify as schools pursue her talents. Except for one thing. She has already committed to play at the University of Notre Dame in the spring of 2016.
During the summer prior to her freshman year, Brooks and a close friend visited Notre Dame, Purdue and Indiana. After walking the campus under the watchful eyes of Touchdown Jesus and the gleam of the Golden Dome, Brooks attended a softball camp where she met current Notre Dame coach Deanna Gumpf.
Brooks' time spent on the Notre Dame campus was so influential that she and her dad returned on the weekend of September 22 for an unofficial visit. It was the same weekend as the traditional Notre Dame-Michigan rivalry game. Brooks got an up close and personal insight to a Notre Dame football weekend. It left her spellbound and ultimately Notre Dame-bound after Gumpf gave her the opportunity to play at ND.
"It was really exciting. I just love the feeling there. It was one of those 'ah-ha' moments," Brooks said with a wide smile across her face. "I feel like I have senioritis right now and I just want to go. It's awesome there."
After the game, her dad was so elated that he was caught speeding outside the school just thinking of his daughter's future program.
"My dad said to the police officer, 'My daughter just committed to the University of Notre Dame.'"
As luck of the Irish would have it, the South Bend policeman understood the excitement and waived the ticket. Meanwhile father and daughter continued to celebrate all the way back home to Burbank.
While her future destination is still two years away, Brooks will continue to polish her game. She has been taking weekly pitching lessons from renowned trainer Laurie Healy and hitting lessons from Olympian and three-time All-American Nicole Giordano for the past seven years. The results are clearly visible on both sides of the playing field.
"I have that much faith and confidence in her talent. The sky is the limit with her," Drabecki said. "I'm so grateful to have her in my program. She has an excellent work ethic. She puts in the time and that is how you become great."
Greatness is defined by championships. A Pacific League title and a postseason No. 1 seed are within reach for the Bulldogs. In Caitlyn they trust.