By Samantha Murdock
BurbankNBeyond
Majestic. Ethereal. Celestial. So many words come to mind after watching Cavalia's Odysseo, though none are capable of accurately describing the truly moving experience.
Normand Latourelle's creation, that took eight years to come to life, beautifully marries the acrobatic sensation of Cirque du Soleil with the wonder and magnificence that is nature. His vision, which he explains to be a "celebration of nature," is evident in every second. Whether it's the stunning feats that the acrobats perform or the graceful maneuvers of horse and rider, the audience is entranced from the moment the curtains part.
With a live band performing in the balconies and ever-changing backdrops as large as three IMAX screens, it is all too easy to forget that you are, in fact, in a tent next to the freeway. The backdrops and music alone are enough to distract you from your current location; combine that with the chill-inducing serenity and trust displayed by performers and horses alike and it's as though you've left this world completely.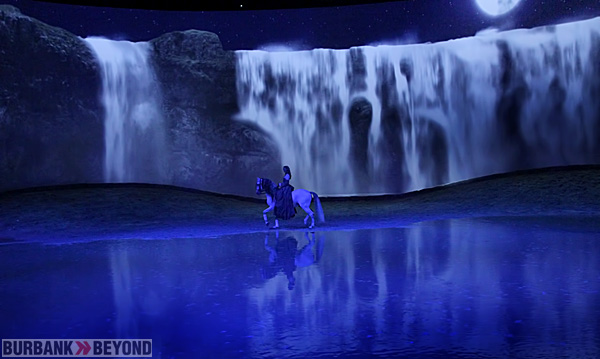 The 80,000 gallon lake that appeared as if from thin air was an accomplishment all it's own. The beauty of Elise Verdoncq and her lone horse dancing through the water could be likened to that of a child playing in a puddle – pure, unfiltered happiness.
The carousel that came down onto the stage as though from the heavens played host to both the dancers and the songstress. Enchanting vocals provided the soundtrack for the dancers to perform graceful acts of strength and dedication. It's impossible to choose a favorite part – every act was unique and beautiful in it's own magical way.
Along with the grandiose show is a genuine desire to introduce people and animals in a caring and comforting atmosphere. Latourelle has joined forces with William Shatner's Hollywood Charity Horse Show, an organization founded by the star in 1990 to raise money for various children's and veteran's charities. Shatner, the host of the afternoon, explained how working with children as well as veterans was cohesive because the "physical and emotional needs of both children and veterans are often some of the same." In an effort to aid the charities, Latourelle presented Shatner with 1,000 tickets to Cavalia's Odysseo to be given to members of the various programs that the Hollywood Charity Horse Show raises funds for.
The Hollywood Charity Horse Show can be found at www.horseshow.org. Tickets for Cavalia, opening on February 27, can be found at www.cavalia.net.