By Dick Dornan
MyBurbank Sports Editor
One throws with power and strength while the other tosses with grace and efficiency. Both are scintillating softball performers for Burbank and Burroughs High School, respectively. They are the queens of the circle and two of the best pitchers in the region.
A year ago, myBurbank wrote a story featuring the talents of Burbank star, Caitlyn Brooks. Her ability to overpower the opposition led the Bulldogs to their first league title since 1987. Brooks' dominating style helped end a string of three consecutive league titles by the Indians.
With the first of two meetings between the two schools less than a month away, we take a look this year at Burroughs' gem on the diamond, Cheyenne Steward. The senior will play a major role in the Indians' quest to regain the league championship.
"Cheyenne is our quiet leader on the team. We have players who are more vocal but she leads in a quiet way and by example," Burroughs coach Doug Nicol said. "Once she became committed and she got focused on what she needed to do this year, she's been pitching very well. She's been on point at practice and at games. She's a great girl."
A year ago, Steward recorded a 9-3 record with a 2.29 earned run average with four shutouts as the No. 2 pitcher on the staff. She batted .431 with a team-best nine doubles and five home runs as JBHS finished 19-9 and 10-4 in league.
"I wasn't always a pitcher but when I started to pitch I didn't think of myself that highly," Steward said. "But when I started to work on it more, going to lessons and practicing all the time, I could tell that I could do something great."
This year Steward has assumed the role as the Indians' ace and thus far has been effective through the team's first 12 games.
Steward has a 3-2 record with a 2.10 era and two saves. At the plate, Steward is hitting a blistering .421 and a team-leading 11 RBI's. Her on base percentage (.522) and slugging percentage (.789) ranks second on the squad.
The journey for Steward has been a special one. The four-year lettermen reflected upon her high school career and what it has meant to her as a person and player.
"It's been a great journey. They are my family," Steward said of her teammates. "I couldn't ask for a better program because we work hard and we are successful. We come together when it matters most. It's just been so much fun. I know when I pitch I have all these great players to back me up. It's just amazing. I couldn't ask for anything more. It's been a great time."
While Brooks fires the heat from the circle, Steward relies on control and accuracy to outduel her opponents. Her calm, cool demeanor and attention to detail has enabled Steward to be successful.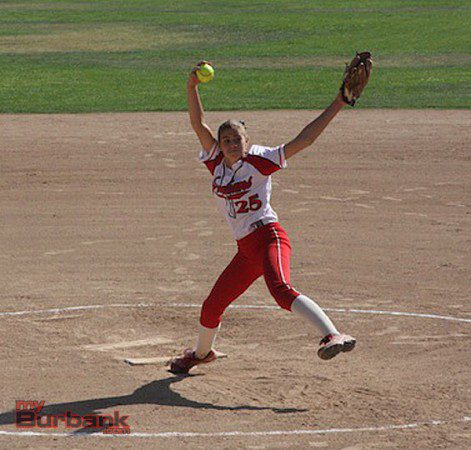 "She is a finesse pitcher who relies on location and movement which she is really mastering right now," Nicol said. "If she keeps the ball down and hits her spots and keeps the hitters off-balance, she is extremely tough to hit.
"We have relied on her the last few years. Last year Cheyenne was one of our top pitchers and players in the lineup. This year I expect big things from her. I think she can be one of the surprise pitchers in this region."
Burroughs (8-3-1) begins league play on Tuesday at home against Glendale. With Brooks back again for the Bulldogs along with a host of other returners, Burbank is considered the frontrunner to win the league title.
The Indians, Crescenta Valley, Arcadia and Glendale will be the contenders to topple BHS.
"I can't wait to play Burbank and play our hearts out," Steward said. "I'm not big on the rivalry but when it comes to it you have this sense of urgency like to win and play your best. It brings out a different side of you. That makes it so much more exciting."
Steward vs. Brooks will be softball's version of the Angels' Jared Weaver going up against the Dodgers' Clayton Kershaw. Red vs. blue. Star against star. Two of the Pacific League's best players will lead their squads into battle as April 24 looms in the distance.
"Sometimes it can be nerve-wracking because the pressure is on you all the time," Steward said of being the center of attention in the circle. "Being nervous pushes me. It's a great feeling especially when you pitch a great game."
Steward has made the most of her opportunity thus far and hopes to close out her Burroughs' career in a positive manner.
"I look to do my best every day," she said with a big smile and twinkles in her eyes. "I don't want to leave the field thinking I could do more but rather how can I make my team better."
Thinking of others before yourself is life's greatest treasure. Steward is a shining example of that and her pot of gold gleams with hope and aspirations.