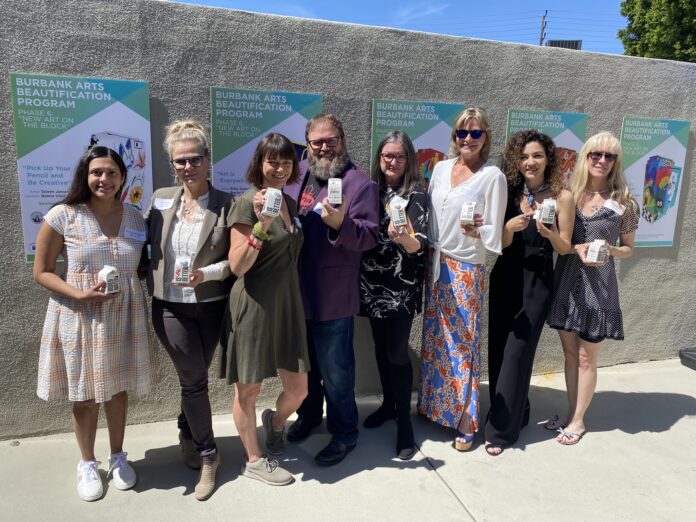 Has the sight of a bold flower or a parrot, a hot air balloon or an octopus on a box at a corner in Burbank made you smile as you've walked by with a coffee or been sitting at a traffic light? If so, you can thank your Cultural Arts Commission.
Since 2015, the Commission has been been working with local artists in partnership with the Parks & Recreation Department, Burbank Public Works and the Art in Public Places Committee to add color and creativity to across Burbank through the Electrical Box Beautification Program. There are now 60 brightly painted boxes across our city with another 9 slated to be painted in 2023.
On Saturday, April 22, the Cultural Arts Commission welcomed artists, sponsors, elected officials, and community members to The Burbank Chamber of Commerce to celebrate Phase 6 of the Beautification Program. Kicked off by Commission Chair Eric Conner and hosted by Vice Chair Suzanne Weerts and Commissioner Lucy Simonyan, the event was a celebration of one of the many things that make Burbank a beautiful place to live.
"I am continually impressed with the work of the commission in both supporting the arts and innovative ideas for beautifying our community," remarked Burbank City Council member Tamala Takahashi, "The utility box project is an excellent example of that."
Takahashi shared that, at a recent council meeting, "Cultural Arts" was added to the city's tourism plan. She also expressed her hope that Burbank will one day be known as "Mural City USA" and said that she counts the 60 utility boxes across the city as part of those murals.
Takahashi thanked the Commission noting, "You are an integral part of what makes our city a desired place to live, work, play, and create!"
Mayor Konstantine Anthony presented certificates of appreciation to the sponsors including Jay Geisenheimer, Logix, Los Angeles County Supervisor Katherine Barger, the Zoraster Family in honor of Ginny Zoraster, the Burbank Chamber of Commerce, former Cultural Arts Commissioner Barbara Beckley and Eula Warren, The Animation Guild, the Burbank Art Association, Warner Bros. Discovery, the Fine Arts Federation and Susan Aprahamian in honor of Burbank Firefighter Art Popkin.
"Burbank has a long history of supporting arts and culture in the community," said Weerts, "This program truly achieves its mission of beautifying Burbank by making art accessible to everyone across our community and helps encourage and inspire artists to get their work out into the world for all to see."
Indeed, the artists in Phase 6 include first time box painters, a recent JBHS graduate, as well as those who have painted several boxes or murals across the city. Many artists are Burbank residents, but they don't have to be. The 2022 box artists were Diane Smyres, Marina Rehrmann, Sarah Stone, Taleen Janian, Rix Cerezo, Riley Dismore, Cosette Grider, Laurah Grijalva, Jennifer Swain, Sydney Mills, Faye Thomas and Sophia Jaramillo.
The box at the corner of Buena Vista and Clark was the third box Rix Cerezo has painted in Burbank. The computer science engineer has taken his artistic hobby into communities across Los Angeles painting several murals and at least 30 electrical boxes. His murals can also be seen in Nayarit, Mexico and in Panama, but most of the cities where his creations can be seen don't celebrate the artists the way that Burbank does. "Burbank connects artists and patrons and that makes a difference," says Cerezo, "In my case, I had the opportunity to learn about the dedication of the sponsors and I was moved by it."
The box that Cerezo painted, at the corner of Buena Vista and Clark, was sponsored by Cultural Arts Commissioner Katherine Zoraster and her family in honor of her sister Ginny Zoraster who passed away unexpectantly on her birthday in 2021.
"Ginny was a big supporter of the Beautification program and had done some volunteer work for the Burbank Cultural Arts Commission," said Zoraster, "She was also a big fan of the Parks and Recreation dance and aerobics classes and also took pottery and knitting at the Betsy Leuke Creative Arts Center. In fact, she specifically named the Betsy Leuke in her will as a beneficiary."
The Leuke Center is located on Clark Street, so it made sense for the Zorasters to adopt that box as a sponsor. "I love the fact that there is a small memorial to her that I can see and think of her when I am driving around town and that in another small way, my sister is continuing to help make Burbank a better place," added Zoraster.
Commissioner Weerts wrapped up the event with the announcement of Phase 7 which will bring nine more beautiful boxes along Hollywood Way under the apropos theme for a street leading to the Hollywood Burbank Airport, "Soaring." The Call for Artists will be announced by the end of the month with submissions due in June and painting slated to commence in September. With the support of the Art in Public Places Committee, selected artists will be granted $1250 for their work details are available at https://burbankarts.com/projects/ .
For just $500, local businesses and organizations can sponsor a box. The program also welcomes individuals or families to sponsor a box in honor of or in the memory of someone special.
For more information on past phases of the Beautification Program or on the upcoming Phase 7, go to: https://burbankarts.com/projects/