Five area actors take to The Little Victory Stage on Thursday evening for the opening night of Dani Girl, a 90-minute musical about a young girl fighting cancer, whose magical way of seeing the world is both delightful and gripping. Directed and produced by Taylor Wesselman of Domino One Productions, Dani Girl also includes the talents of John Burroughs High School graduate Andrew Orbison as Musical Director.
"Dani Girl is a contemporary musical about a 9 year old girl battling cancer," explained Wesselman. "With the help of her guardian Angel, her new roommate, Marty, and her favorite stuffed teddy bear, she embarks on a magical quest to find her hair. The show is bittersweet and equally hilarious and heartbreaking."
"I found this show almost a year ago and was so surprised at how well written it was," commented Wesselman. "I'm always nervous with new musicals but this one gives me so much hope for musical theatre because to take a topic such as childhood cancer and write a show about it, but more than that, to write a musical is a daring endeavor."
"I applaud the writers for their creativity and their bravery for tackling this issue and for doing it in such a clever and beautiful way."
Dani is portrayed by actor Maryanne Burr and Jacob Krech plays Marty, while Matt Severyn is Raph, Lisa Dyson is Dani's Mother and Michael Shaughnessy portrays Dani's Father and God.
"The cast is incredible, they are absolutely perfectly cast," added Wesselman. "Each of them were hand picked for the part. It's so easy to work with actors who are so dedicated to the piece and invested in the story and it has made my job as a first time director a complete dream."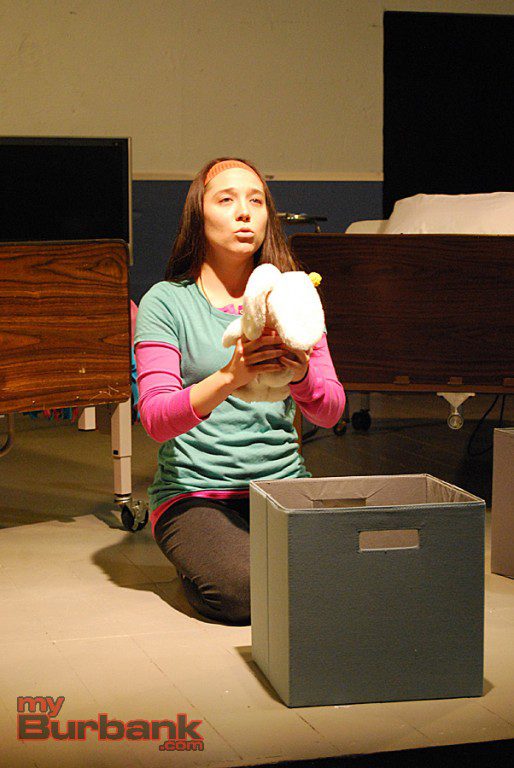 JBHS '09 graduate Orbison also enlisted the talents of electronic cellist Elmo Zapp, who joins him on the small stage to provide the show's music.
"I'm so happy to be doing this piece right in my hometown," commented Orbison. "It's great to see art thriving in the community that I grew up and live in."
"This show is a fantastic piece. It will take you through about every emotion you can feel in such a brilliant way."
"Each of the actors bring so much to the table to help bring these characters to life. To top it all off, they sound fantastic," Orbison added. "This is a piece that will leave [the audience] with so much to think about in a positive and enlightening way."
"I started this company as a way to try new things and present new work and I am so proud to have Dani Girl be our first full length show because it encompasses everything the company was made for," Wesselman went on to say.
"The cast and the creative team have put together something very special and I think more work like Dani Girl needs to be produced because there is an audience that not only wants to see it but needs to see it."
"In college I found a quote that has stayed with me: 'Art should comfort the disturbed and disturb the comfortable.'"
"Theatre is such a great way to find catharsis, to live vicariously and to find peace in whatever issues may be in your life. There are so many people that have dealt with cancer whether personally or supporting someone who has it and I think a huge word to go along with Dani Girl is the word 'peace.'"
"Dani Girl is a show about finding peace and it truly is a show that's good for the soul," Wesselman said.
Tickets are $25 general admission and $20 for students and seniors and are available here. Dani Girl opens Thursday, November 5, at 7:30 p.m. at The Little Victory Theatre located at 3326 W. Victory Boulevard in Burbank.
Dani Girl continues its run on Friday, November 6, at 7:30 p.m. and Saturday, November 7, at 3:00 and 7:30 p.m. More information on Domino One Productions can be found here. Ten percent of the show's proceeds will be donated to St. Jude's Children's Cancer Research.