Friday evening traffic got a lot worse when two cars collided at the intersection of Burbank Blvd and Buena Vista Street, and one of those cars involved rolled over.
Burbank Police responded several units to the intersection as evening traffic is usually very heavy, and indeed after receiving several 911 calls reporting the accident with an overturned auto.
Burbank Fire along with Police responded with several pieces of emergency equipment, as it was originally reported that one vehicle that was overturned still had a person trapped inside. That driver self extricated just as the Police were arriving. That driver declined medical aid, and the driver of the auto in the middle of the intersection had to be removed by Firefighters and Burbank Paramedics transported her to Saint Joseph Providence Medical Center with non life threatening injuries.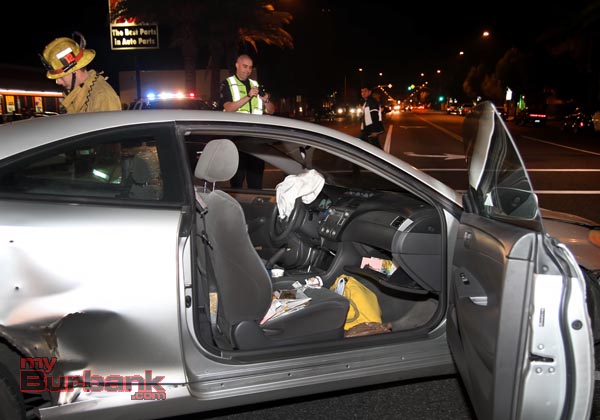 Burbank Police closed the intersection in all directions and detoured traffic to enable Paramedics and Emergency personnel on the scene to work safely, as well as traffic officers conducting the investigation as to who was at fault.