When it comes to recycling, no one does it more elegantly than the members of La Providencia Guild of Children's Hospital Los Angeles.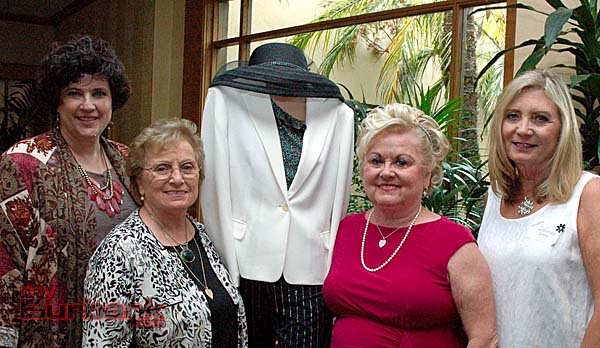 From fashions to centerpieces and silent auction prizes everything had been donated to the thrift shop on Burbank Boulevard and re-purposed for the Summer Meeting appropriately themed "Everything Old is New Again." The event took place on Sept. 12 at the Oakmont Country Club in Glendale.
President Joan Chandler welcomed the more than 130 members and guests attending.
The meeting kicked off with an update on Children's Hospital Los Angeles presented by Suzanne Lapis, director of associates and affiliates at the hospital. Among the news Lapis shared was that Paul Viviano has succeeded Richard Cordova as president and chief executive officer.
Viviano is very visible at the hospital, Lapis said, and recently sent an email himself to announce that the hospital has received the National Research Path to Excellence Award for being the top-performing facility in pediatrics in the nation. The award was presented by the National Research Corp., an organization dedicated to improving the quality of care provided in the healthcare industry.
The hospital is very devoted to family-centered care and including the parents in every decision about their children, Lapis said.
La Providencia Guild is one of 26 associates groups that help raise funds for the hospital. At this time, the groups are committed to raising a total of $6 million for the Associates Rehabilitation Center Caregiver Wing and the Associates Endowed Chair in Sarcoma.
The rehabilitation center team treats stroke, brain and spinal cord injuries, brain tumors, bone tumors, seizures, spinal disorders and rheumatology disorders. Some children who have been in accidents or have a brain tumor have to relearn all their skills — to walk, to eat. Young patients stay from one to five months at the rehabilitation center receiving care and then continue as an outpatient.
The associates are just over half way to the $3 million goal for the caregiver wing and will begin fundraising in February for the $3 million endowed chair in sarcoma, Lapis said.
"It's really exciting and you are all working so hard and I really want to thank you for all your efforts. This is such an important unit in the hospital," she said.
There is an art, music and therapy program at the hospital. Music is very healing, she said, and a nurse told Lapis about an infant who was in the neonatal intensive care unit at the hospital. He was in a comatose-like state. A music therapist came to the room, and sang the only song he knew — "La Bamba" — and the baby opened his eyes.
"We are really actually just way in the forefront of caring for children," Lapis said.
The delightful lunch of Iceberg wedge, chicken-stuffed crepes and cheese cake was a soothing transition to the fashion show aptly commentated by Ann O'Donnell-Gardner, who chaired the event with Deborah Spang.
The clothes were modeled by members and ran the gamut of casual to dressy. Looking stunning in everything were Daina Burness, Courtney Burness, Michelle Chavoor, Sandra Kelley, Jill Kessler, Nancy Lee-Wintering, Kathryn Levine, Carrie McCoy, Irene Metzger, Casey Schwartz, Andrea Seward, Sharon Terranova and Rosemarie Witten. Loretta Donnelly provided lovely background music as models weaved around the tables.
Highlights were a ruby gown fit for the red carpet donned by Jill Kessler, who just joined the guild, and a shimmering black gown worn by Michelle Chavoor, daughter of former guild president Veronica Chavoor.
Working on the committee were thrift shop chair and Second Vice President Lorelei Kelley, reservations chair Veronica Chavoor, Oakmont liaison Sharon Terranova, fashion coordinators Sue Ann Gordon and Rosemarie Witten, silent auction chair Sandra Kelley, centerpieces co-chairs Debra Dee Dee Rowlands, Donna Salant, programs and invitations chair Deborah Spang and thrift shop treasurer Sue Meckley.
Other officers attending were First Vice President Lynn White-Shelby, Secretary Glenda Jones, Treasurer Tanya Karn and Public Relations chair Dorothy Austin.
Helping behind the scenes were Nanci Ortega, models hair; Fanny Belle Mound, model wrangler; and Cynthia Faust, Roxanne Gunther, Darlene Lucas, Malena Tappan, Teresa Garcia and Janet Puchlik, Brooks Gardner, Ron Spang, Mark Sadusky and Mary Jo Hjelmstrom.