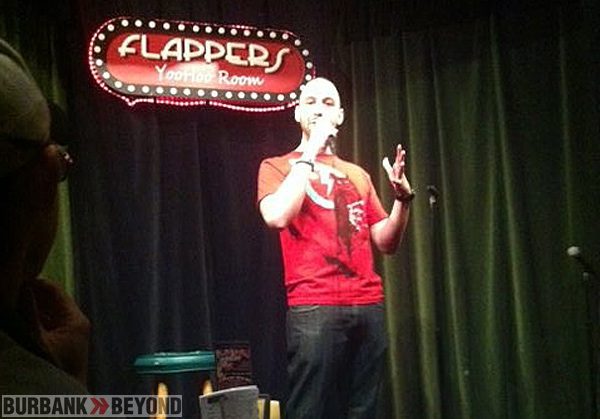 By Juanita Adame
Staff Writer

The YooHoo room at the Flappers Comedy Club was filled to capacity on Saturday night as local comedians and friends came to show support for Caleb Medley, an up and coming comedian who was among the fifty-eight victims critically injured in the July 20th Colorado shooting massacre that left twelve people dead.  
"Although I did not know Caleb directly, we comedians are a tight knit group," said Michelle Miracle. "We stick together and help each other out- this is comedy camaraderie." 
Karah Britton works as an actress in Los Angeles and said she didn't hesitate to help out. "I am originally from Colorado, and although I didn't know any of the victims, I wanted to do something to show my support."
According to supportcaleb.com, on July 18th, just two days before the shooting, Medley's career and personal life were looking good. 
He and his high school sweetheart, Katie, were preparing for the birth of their son Hugo, due on July 22nd. During that same week, Medley got some more good news; he would advance to the next round of judging for one of Denver's biggest comedy contests. 
The couple decided they wanted to have one more night to themselves before they  became parents, so they bought tickets to the midnight showing of the Batman movie, 'The Dark Knight Rises.' 
Aurora police said about thirty minutes after the movie started, James Holmes entered the theater and began to shoot into the crowd. Medley was struck in the face by a bullet. He lost his right eye, suffered brain damage and is currently in a medically induced coma. His girlfriend Katie and unborn baby escaped unharmed. 
"Comedy for Caleb & Colorado" was the name of Saturday's comedy show fundraiser. It was hosted by David Hill and included a variety of talent from the Los Angeles area and Colorado. 
 During an intermission, Hill took some time to talk to the crowd before he brought up the next act.  "Really?" he said as he jingled several quarters and nickels around in the donation bottle.  "What the heck is Caleb supposed to do with this? His laundry? Let's show him we care, we can do better than this." 
Comic and staff writer for the Conan O'Brien show, Brian Kiley, said the story of Caleb really moved him. "This is such a heartfelt story," he said. "As a comic, and even just as a human being, we need to do all we can to help each other out."  
The show also included acts by: Haley M. Driscoll, David Bosa, Dan Narvaez, Chad Neidt, and Alison Tafel. 
In all $900 were raised and Hill said he was proud of everyone who showed their support for Caleb. "This is so much better, thank you all for helping!"