We've all been there. Just an hour for your Burbank lunch and you want something fresh, something healthy, maybe a salad or lighter meal. Where can you get in and out in under an hour and also include some vegetables in your diet?!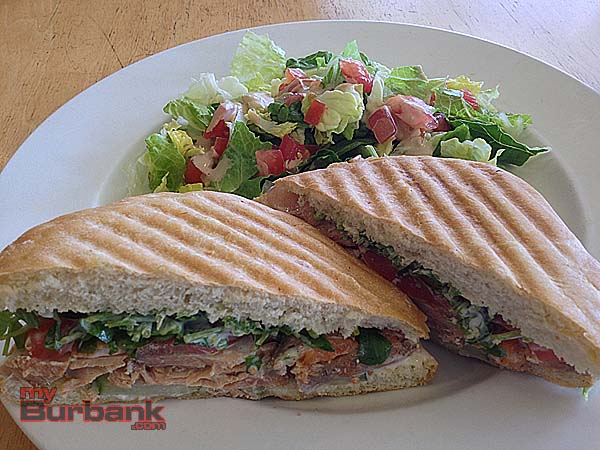 Urban Eats is known for its customizable salads and fresh menu. Never fear, you can get a beer or a fried chicken sandwich here, too. The salmon sandwich is so very good.
The wild-caught fish is flavorful and prepared perfectly. Served inside a gently pressed panini roll and accompanied by a light side salad with yummy house dressing, this sandwich is amazing.
The recently revamped menu at DeBell Golf's The Canyon Grille has some excellent new options. For the veggie lover, the Veggie Wrap combines a bunch of colorful vegetables like avocado, peppers, cucumber and tomato with mixed greens and jack cheese in a giant tortilla wrap.
For some red meat at lunch, try The Canyon Grille's Carne Asada Torta, which layers grilled meat with salsa, chipotle mayo and freshly made guacamole. Served on airy focaccia bread, the sandwich is absolutely delicious. Fresh french fries or a side salad complete the plate.
DeBell's Canyon Grille boasts a gorgeous view and restful, casual vibe. It's great for a lunch away from the hustle and bustle of the city and the office.
Getting enough tasty vegetables can be a challenge, but the Chop Stop has it covered. Serving custom salads either chopped and mixed, in a wrap or on top of beans and rice provides a variety of enjoyable ways to get one's daily requirement of veggies.
Choose from popular favorites on the menu or come up with your own concoction. Chop Stop makes each salad, wrap or bowl fresh to order. The place can get very busy at lunchtime and there aren't a lot of tables inside or out, so many people get their lunch to go.
The Chop Stop is our go-to place for a fast, healthy salad. We add meat and beans or rice for a heartier lunch.
Back in Magnolia Park, Romancing the Bean has a variety of creative and colorful salads and sandwiches for the lunchtime crowd. Recent favorites include the Salad Nicoise, the kale and Brussels sprouts salad and the cold chicken curry sandwich.
Fresh ingredients and edible flowers always brighten up Romancing the Bean's salads. Many people add some chicken to the raw kale and Brussels sprouts salad for a heartier lunch.
The cold chicken curry sandwich on a multi-grain bread has been another popular favorite at the Magnolia Park coffee shop for quite a while now. Served with a side salad of mixed greens and a light vinaigrette, it's another healthy option for lunch.
However, sometimes we really need to have some fries and beer at lunch. One way to feel better about that choice is to get veggie or no-meat fare along with the fries and beer.
And for that, Tony's Darts Away is an excellent choice for vegan and vegetarian sandwiches and salads. They make a delicious Golden State salad with yellow beets, goat cheese, pepitas and organic greens, topped with a light vinaigrette.
Throw in some great tunes and the choice of interior bar or outside patio ambiance, and lunch at Tony's suddenly becomes a party for a few minutes until it's time to get back to work.
In Burbank, we are lucky to have so many options for healthy and light lunches. We welcome readers to share some of their favorites dishes and restaurants with us in the comment section or via email. Maybe we'll highlight your favorite lunch next.