For those who've been fortunate enough to visit the flagship Eataly in New York City, the wait for the Los Angeles branch to open seemed interminable. Open now for nearly one year in the Century City Westfield shopping mall, Eataly L.A. is a true gem.
Spread along three floors along the north side of the mall, Eataly boasts a wide assortment of pre-cooked and fresh pastas, cheeses and meats, fresh vegetables and herbs, jarred sauces and oils and freshly baked breads. The selection astounds. Everything and anything needed to make a fantastic Italian meal at home is available on site.
In the mood for a dessert and coffee? Eataly offers all kinds of affogato, gelato, bombolini, cannoli and other pastries and sweets, including cakes, tiramisu and chocolates, along with Lavazza espressos, lattes and more.
Rather a quick bite? The Pizza alla Pala counter serves up Roman style flatbreads topped with a variety of cheeses, sauces, meats, vegetables and herbs. The pizzas are some of the best we've ever had.
The Rosticceria provides a nice selection of prime rib, chicken and pre-cooked meats, along with a variety of sides for another hot meal option. For veggie lovers, L'Orto Della Chef is a well-stocked salad bar. And I Panini offers a wide variety of hot and cold sandwiches for a quick bite.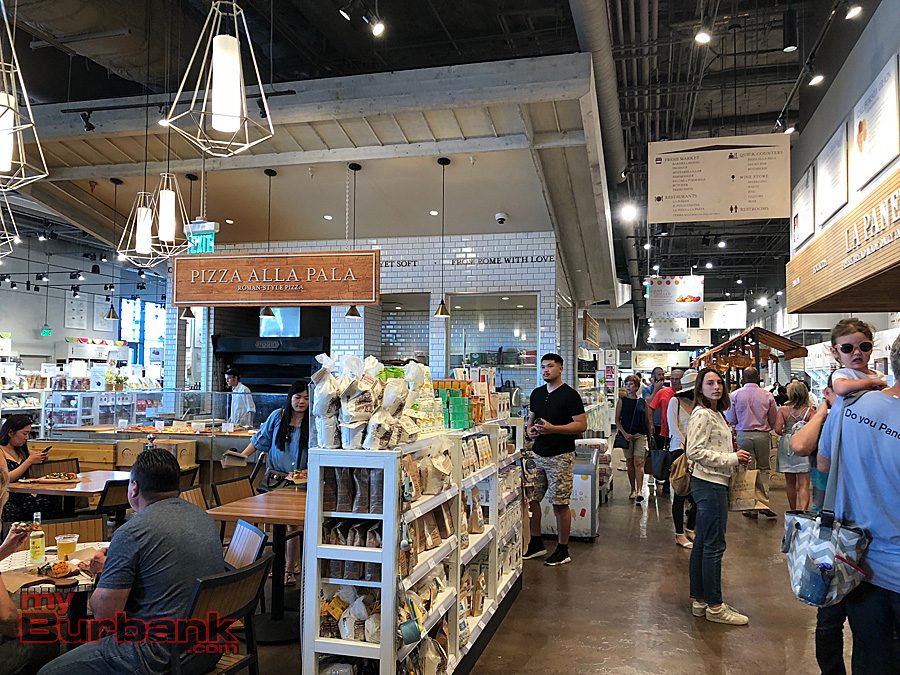 There's plenty of seating on the second level of the complex, both inside and outside on the patio.
Two restaurants are available on a first-come, first-served basis – La Pizza and La Pasta, and La Piazza. There is often a line to access these two eateries, which are very popular.
Il Pesce Cucina on the second floor and the rooftop beauty, Terra, are available for reservations, and provide table service, in addition to expansive menus.
We have enjoyed Terra several times – the cocktails, wine list, appetizers, pastas and entrees are all on point. Save room for the fresh gelato cart that offers uniquely Italian toppings for a custom dessert.
The fresh pastas, whether ordered at the restaurant or taken home to prepare, are absolutely excellent.
With fantastic food, coffee, desserts and restaurants, Eataly L.A. is a wonderful and tasty way to Get Out Of Town, Burbank!
Editor's Note: While there's always a lot going on in Burbank, myBurbank's "Get Out Of Town!" highlights some of our favorite activities and events outside the town borders.