Editor's Note: While there's always a lot going on in Burbank, myBurbank's "Get Out Of Town!" highlights some of our favorite activities and events outside the town borders.
Since opening in October, the LA Phil Nimbus art and music installation at the Walt Disney Concert Hall has added a dimension of visual, musical and environmental esthetic to the cavernous space of escalators and stairs between the parking garage and the Hall.
Walt Disney Concert Hall always provides so much for the community musically, as home to the world class Los Angeles Philharmonic and as a venue with excellent programming.
Nimbus really stirs the senses with subtle chimes, faraway thunder and computer generated music. The clouds change color, glow and pulse, throughout the day.
Punctuated with compositions performed by some of the LA Phil's stellar musicians, including Martin Chalifour (violin), Robert DeMaine (cello), Marion Arthur Kuszyk (oboe), Boris Allakhverdyan (clarinet), Andrew Bain (horn) and Thomas Hooten (trumpet), Nimbus lends a sense of drama to an otherwise dull space.
While you're downtown checking out the LA Phil Nimbus, you may wish to hang around for one of the Walt Disney Concert Hall's concerts or programs. Currently, a series of classic films including On The Waterfront and Casablanca are screening with music performed by a live orchestra.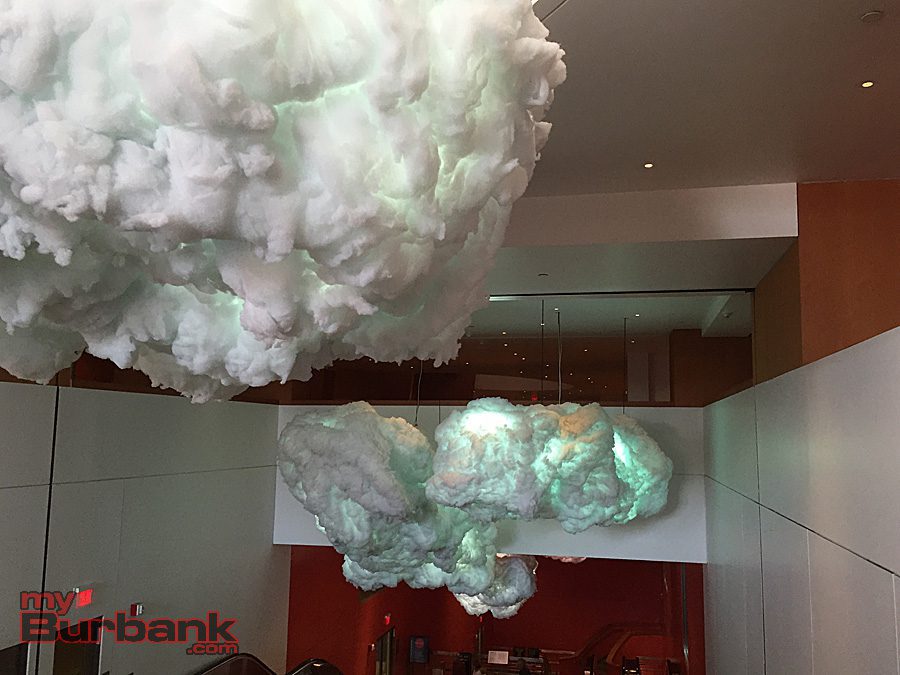 The Green Umbrella new music series, Casual Fridays series and a performance of the ballet The Nutcracker Suite are all highlights on the upcoming schedule. Of course, there are the regular Thursday and Saturday evening and Sunday afternoon classical music concerts featuring the LA Phil and conductor Gustavo Dudamel.
The upcoming Walt Disney Concert Hall schedule can be found here.
Additionally, the Hall gift shop stocks all kinds of eclectic, fun or stylish music-related gifts for the music lovers in your life.
Parking can be found under the Hall. For those Metro minded, a red line stop is one block away.
The LA Phil Nimbus will be on display, with occasional special live interactions and events, though 2019. Walt Disney Concert Hall is located at 111 S. Grand Avenue, Los Angeles, 90012.